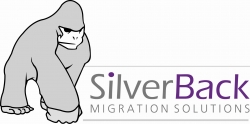 Dublin, CA, December 09, 2009 --(
PR.com
)--
SilverBack Migration Solutions
has successfully completed a complex data center move for Convexity Capital Management LP, a Boston-based institutional investment management firm. The migration, which involved moving a Convexity facility from the Eastern Seaboard to a larger site nearly 3,000 miles away, was accomplished from power-off to power-on in under 36-hours.
Additionally,
SilverBack worked closely with Convexity
and the new data center facility to devise a more efficient power design for Convexity's environment. This restructuring has allowed them to reduce their cabinet footprint by almost 30 percent while maintaining the same high level of service to their customers.
Mike Tiberio, IT director for Convexity, notes several reasons for choosing SilverBack to execute their migration. "They really took the time to get a clear understanding of our specific requirements in moving critical systems equipment – as if it were their own data center. We were impressed with their alacrity, flexibility and in-depth knowledge of logistical preparations and analysis. Also, Team SilverBack's expertise in hardware provisioning, transport, assembly methods and industry standard wire management was a definite plus."
Because of delays with network providers, Convexity's inventory of equipment changed up until the last minute, carving precious hours off their downtime window. "We had to move everything across the country overnight, reconnect and be ready to test within 48 hours of taking our systems down," explains Tiberio. To ensure a seamless migration, SilverBack continually updated Convexity's inventory lists and cable maps and arranged to keep the same crew for both the de-install and re-install. At the new site, they procured the correct PDUs and set their configurations before starting to rack and connect servers.
"Our job is in no way limited to simply moving data center equipment from Point A to Point B. As part of SilverBack's fully managed solution, it's our responsibility to closely evaluate each client's needs, not just during the migration, but also in the planning and layout of their new facility," points out
Ken Jamaca
, president of SilverBack. "For example, to effectively handle Convexity's high density and diverse cable types, we bundled each functional group of cables (i.e., fibre, network, serial, etc.) separately for a cleaner and more manageable environment that will be easy to expand and modify to meet their needs going forward."
Convexity IT management was unable to be on-hand to supervise set-up. SilverBack installed everything based on their meticulous documentation, getting it 100 percent correct the first time. "We were back up-and-running 12 hours sooner than our deadline. I did not imagine such a smooth migration was possible." Tiberio continues.
About SilverBack Migration Solutions, Inc.
SilverBack Migration Solutions is a world class provider of data center migration services for enterprise customers. With end-to-end planning, vendor coordination, staffing and execution, SilverBack's full-scale, seamless solutions enable clients to focus on their core business, not on multi-vendor management. Their key services include: fully managed datacenter migrations (MDCM), technical project management, datacenter engineering and continuity of business planning. Headquartered in Northern California, SilverBack Migration Solutions has operations throughout the U.S. More information is available at
www.teamsilverback.com
.
###