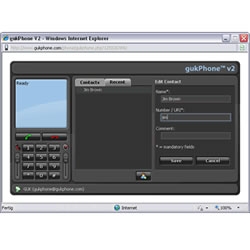 St. Albans, United Kingdom, December 17, 2009 --(
PR.com
)-- GUK Communications Ltd. has launched the new gukPhone V2 Flash client, the new client support Instant Messaging features like user-to-user calls, with the new client, the users can encrypt thier communication by using SSL Technology. The gukPhone account of registered user can use any SIP device and support VPN (Virtual Private Network) PPTP to encrypt thier communication on
http://www.gukphone.com
"The new services we have launched support VPN for all users they want to use a VPN Tunnel to the gukPhone platform, but what does this mean? There are two big advantages, if you setup a VPN Tunnel to the gukPhone platform nobody can see what service are you using, this make it possible to use VoIP inside every Network, also 3G and GPRS . But the most relevant reason why we setup this service is the incredible increase of the voice quality, with the VPN Tunnel you can use a Satellite Internet connection for your telephone calls and the delay will decrease dramatically. Now the user only needs a bandwidth of 64KB to have a good voice quality, this make the use of VoIP applications inside Mobile Devices like iPhone within 3G and GPRS Network's possible" said Ricardo Palazzi from GUK Communications.
There are many scenarios how the new gukPhone services can be used:
- The gukPhone client software, that works inside the Browser window as a Flash Applet, within the Browser you can use User-to-User calls and telephony to external numbers with very low rates and the option to using SSL Encryption to make the conversation secure.
- After setup a VPN Connection to the gukPhone platform (with the on board client from Windows XP, Vista and Windows 7 or Mac) the user can connect his preferred SIP Softphone to gukPhone by using encrypted connection for using chat or telephony.
- There is also the option to install a VPN tunnel by using openVPN and connect the users SIP Servers or clients to the gukPhone platform for making outgoing calls.
- Mobile Clients from the most relevant Manufacturers having a VPN and VoIP client software inside their phones, the gukPhone platform is the first which make the combination of both services to the End-users easy to use, possible.
Related service providers offering telephony services, and charge substantially higher fees per minute plus a connection fee, with gukPhone people will save money.
gukPhone uses most recent technology for high-quality voice communication. All services have been developed by GUK Communications Ltd. With the implementation as a RIA service (Rich Internet Application), users do not need to download, upgrade and/or install new software - after navigating to the phone, every user has the recent version of the application available. The phone works on Windows, Mac, Linux and Solaris.
About:
GUK Communications Ltd. is developing and integrating solutions around VoIP and RIA. The combination of traditional telephony and VoIP is the primary goal.
Further information can be found on
http://www.gukphone.com
###