Southern Author Parallels Family's Growth with America's Rise During 20th Century
Mississippi-native Jennifer Crane publishes first novel, Coopers Crossing.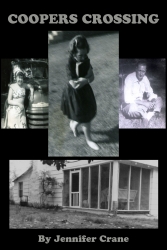 Jackson, MS, December 29, 2009 --(
PR.com
)-- In her first foray into the literary market, Mississippi-native Jennifer Crane has published her novel Coopers Crossing, a story of four generations of her family struggling to come of age in the 20th century as America changes and grows.
Mrs. Crane used events from her own life to inspire this fictional work that poignantly tells how her family, through their faith, overcame The Great Depression, World War II, the Vietnam War, natural disasters, family disasters and every day events over nearly 100 years.
Coopers Crossing is divided into four parts, one focused on the central characters of each generation -- Edna, Bud, Cheryl, and finally, Cheryl's children Daniel and Denise. The characters evolve throughout the story: moving from backwoods country speak to the mature language often heard today; leaving rural Mississippi for more urban areas; and abandoning cow milking and field plowing for advanced educations and careers in air-conditioned buildings.
"What started out as a family memoir for my children quickly evolved into so much more," Mrs. Crane said. "I realized I had a golden opportunity to tell a story that so many families could relate to."
Mrs. Crane credits Lulu, a self-publishing company, with helping her achieve her long-time dream of being a published author.
For more information on Coopers Crossing, please visit www.CoopersCrossingBook.com.
###
Lulu.com is the premier marketplace for digital content on the Internet, with over 300,000 recently published titles, and more than 4,000 new titles added each week, created by people in 80 different countries. Lulu is changing the world of publishing by enabling the creators of books, video, periodicals, multimedia and other content to publish their work themselves with complete editorial and copyright control. With Lulu offices in the US, Canada the UK and Europe, Lulu customers can reach the globe.
Jennifer Crane, whose real name is Jennifer Dorsey, is a retired schoolteacher living in Pearl, Miss., with her husband. Coopers Crossing is available for purchase at
www.CoopersCrossingBook.com
.
Contact
Angela Shepherd
8504965435
www.cooperscrossingbook.com

Contact