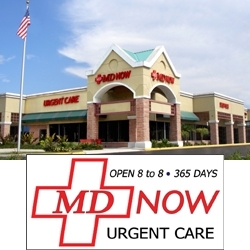 West Palm Beach, FL, January 16, 2010 --(
PR.com
)--
MD Now Urgent Care
is currently seeking the assistance of staff, patients and the community by way of medical supply donations and other necessary items for the people of Haiti during this time of great difficulty and natural disaster.
As one of the largest providers of walk-in medical services in South Florida, MD Now Urgent Care Centers today, in response to the tragedy facing the Haitian people as a result of the devastating earthquake experienced this past Tuesday, owner Peter Lamelas has partnered with Project Medishare for Haiti to provide medical supplies and and monetary donations to aid the relief efforts.
Dr. Lamelas, a former ER physician and Emergency Department Director realizes the importance of acting fast in the face of adversity. Partnering with Project Medishare for Haiti, a non-profit organization dedicated to sharing its human and technical resources with its Haitian partners, MD Now has already begun the process of providing medical supplies and monetary donations to provide relief to the devastated nation. Traditionally one of the first doctor's offices in Palm Beach County to respond to such threats as this past year's H1N1 flu pandemic, MD Now is now accepting the donation of supplies from staff, patients and peers in the medical community for transport to people of Haiti.
Donations of medications and medical supplies including antibiotics, medications, pain relievers (motrin, advil, aleve, etc) anesthetics, children medicines, pedialyte, IV Bags, needles and syringes, bandages, gauze, ace wraps, casting and orthopedic supplies, suture sets, peroxide, antiseptics, sanitizers and basic first aid supplies for the Haitian people are being accepted immediately at any one of the six MD Now Urgent Care locations. Supplies are currently being delivered via donated private airplanes to several clinics sponsored by Project Medishare for Haiti and they are currently leaving Ft. Lauderdale airport daily and being brought directly to these clinics and a field hospital. You can also log on to
www.mymdnow.com/HelpforHaiti.htm
to learn more, or even to provide monetary donation for Project Medishare.
About Project Medishare for Haiti
Dr. Barth Green and Dr. Arthur Fournier of the University of Miami Medical School, founded
Project Medishare for Haiti,
Inc. in 1994, a 501c 3 non-profit organization registered in Florida. They assembled the first team of faculty from the University of Miami Schools of Medicine and Nursing to assess the health care situation in Haiti and explore ways in which they could help improve the health conditions of the people in Haiti. Since that first trip, Project Medishare has forged partnerships with physicians and allied health professionals with a strong belief in social justice and that everyone has the right to quality healthcare. Currently they staff and run medical clinics that directly bring medical care directly to the Haitian people.
About MD Now Urgent Care
MD Now Urgent Care Centers is one of the largest providers of urgent care walk-in and occupational medical services in South Florida has provided convenient and affordable medical services to the Palm Beach County community since opening its first medical center in 2004. The company currently has six locations throughout Palm Beach County: West Palm Beach, Palm Beach Gardens, Lake Worth, Royal Palm Beach, Boynton Beach and Boca Raton, with plans to open two more locations next year. Owned and founded by Peter Lamelas, MD, MBA, the facilities are full service urgent care centers and provide a wide spectrum of services, including occupational medicine, drug and DNA testing, school physicals, work physicals, tetanus shots, flu testing, flu treatments, digital X-rays, onsite lab work, confidential STD testing, car accident and on the job injury medical care.
MD Now's urgent care centers provide a cost-effect alternative to the emergency room and a more convenient option than waiting for a doctor's appointment. Each location is open 365 days a year from 8:00am to 8:00pm, including weekends and holidays. At MD Now Urgent Care Centers, most patients are seen, treated and released in less than an hour. All major insurance is accepted and no appointment is necessary. Certified by the Urgent Care Association of America.
###