Edfu Books - Important New Title Released - King Jesus, the Warrior King - Revolutionary New Evidence by Ralph Ellis
New research by Ralph Ellis suggests that Jesus Christ (King Jesus) was a wealthy royal of Egyptian heritage, whose revolutionary goal was to become Emperor of Rome. New book published. Ralph Ellis claims to have discovered many references detailing the life of the historical King Jesus, in the established historical texts. Author: Ralph Ellis. Publisher: Edfu Books.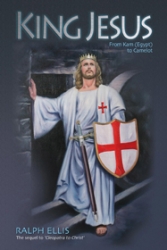 Shrewsbury, United Kingdom, January 28, 2010 --(
PR.com
)-- Using original ancient texts, historical researcher Ralph Ellis claims he has discovered evidence for the biblical Jesus being a royal prince in exile - a prince descended from the Egyptian Ptolemaic line. Surprisingly, Ralph claims that there is a great deal of evidence in the historical texts that substantiate this bold claim. Over 600 pages of deeply researched evidence.
This is Ralph's sixth book in this series of boldly revisionary history/theology.
Contrary to popular perceptions, Ralph Ellis claims that King Jesus and Queen Mary Magdalene were the richest couple in Syrio-Judaea. The Romans wanted to impose taxes on Jesus and Mary, an imposition that provoked the Jewish Revolt. King Jesus fought and lost that war, and so he was crucified, reprieved and sent into exile in Chester, in Roman England. In those remote lands, King Jesus became known as Atur-tii (the Egyptian) or 'King Arthur and the twelve disciples of the Last Supper Table'.
It was much safer for bards to sing and write of King Arthur and the twelve knights, rather than King Jesus and the twelve disciples. Any direct mention of King Jesus surviving and living in Britain would have been heresy in this era, and would have resulted in a slow roasting.
All Ralph's evidence is taken from original texts, including the Tanakh, Talmud, Josephus, Eusebius, Origen, Irenaeus, Cassius, Tacitus, Suetonius, Clement and many others besides.
Author: Ralph Ellis. Publisher: Edfu Books. Title 'King Jesus'.
###
Contact
Edfu Books
Ralph Ellis
00444 7948 309699
www.edfu-books.com
Skype ralfellis

Contact