Corporate Traffic Closes Out 2009 with a 32% Increase in Shipment Volumes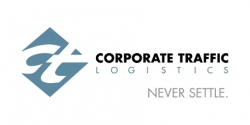 Jacksonville, FL, January 22, 2010 --(
PR.com
)-- Corporate Traffic Inc., a third party logistics provider headquartered in Jacksonville, Florida proudly finished out 2009 with a 32% higher shipment volume than that of the previous year. Corporate Traffic supported this boost in new business by adding 30% more equipment to their asset based company, Corporate Transportation, throughout the year. The company also expanded their operational teams by 20% to maintain the service levels their clients have become accustomed to.
"While most companies in our industry saw a downturn in volumes of about 25-30% in 2009, we have managed to increase ours by 32%. We have an exceptional sales force representing Corporate Traffic and an operational staff whose service mentality is unmatched, both of which garner new business for the company on a daily basis. We are very fortunate." said Chris Cline, President.
In anticipation of further growth in 2010, Corporate Traffic is making preparations to provide the equipment and resources needed to ensure adequate capacity for their customers' future freight needs. The company also intends to expand the operational personnel to manage the added shipments and meet their clients' service expectations as new business develops.
Corporate Traffic Inc, (Jacksonville, FL) Founded in 1992 is an industry recognized leader in logistics and transportation services. Corporate Traffic has been listed as one of Inbound Logistics top 100 3PL's since 1999 for offering clients both quality asset and non-asset logistics solutions. At Corporate Traffic, Never Settle is more than a motto. It's a quantifiable mentality that all our employees and partners employ to get our clients the results they need, when they need them.
###
Contact
Corporate Traffic
Lisa Diaz
904-400-6018
www.corporate-traffic.com

Contact