Third Wave Digital Announces Launch of New Commercial Diving Academy.com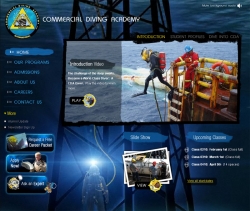 Macon, GA, January 28, 2010 --(
PR.com
)-- Third Wave Digital, Central Georgia's most comprehensive Web development and Internet marketing firm, announces today the launch of the newly redesigned Commercial Diving Academy Website. For this new venture, Jacksonville-based Commercial Diving Academy (CDA) came to Third Wave Digital for a comprehensive redesign providing a more user friendly interface experience and a wealth of onsite features and functionality.
Visitors to the new www.CommericalDivingAcademy.com are immediately immersed in the world of underwater diving thanks to custom graphics, embedded video, Flash and audio components. This unique set of components provides users with an interactive, comprehensive listing of all information to consider when selecting a diving academy, as well as instant applications to get the process started. There are also numerous informational videos, photo galleries and student profiles to help prospective students get to know the staff and standards of CDA.
"The team at CDA wanted to take their Web presence to a new level of student recruitment effectiveness and backend administrative functionality," said Bart Campione, President of Third Wave Digital. "They wanted a design that was immersive, an interface that was sticky and enough Web video to tell the CDA story in the most compelling fashion possible. The website created by Third Wave Digital's team provided CDA with everything they wanted and more."
After conducting extensive research on commercial diving web portals across the country, Third Wave Digital implemented a navigation layout that segmented the volumes of information into user friendly categories, while still providing helpful links throughout the layout. In addition to creating the navigation and preparing all the content for the new site, Third Wave Digital provided an overall design aesthetic to represent the history of excellence in diving education provided by Commercial Diving Academy.
"Our new site continues to get compliments," said Allen Garber, chief administration officer for CDA. "Our prospective students are blown-a-way by not only the look and feel, but also the ease of navigation. Third Wave Digital made the transition seamless and was very responsive to any issue we had. I look forward to continuing to work closely with them on our other Web sites and supportive materials."
About CDA
Commercial Diving Academy is the only accredited Commercial Diving School in the Southeast. Located in Jacksonville, FL, CDA offers the most comprehensive and rigorous 16-week diving program in the area. CDA offers more internationally recognized certifications than any other training program. To see all of the new site features, or for more information about the academy, visit www.CommercialDivingAcademy.com
About Third Wave Digital
Third Wave Digital is headquartered in Macon, Georgia with satellite offices in Atlanta, Georgia and Orlando, Florida. Third Wave Advertising is a subsidiary of Third Wave Digital and offers full service advertising agency and internet marketing services to the Central Georgia market. For more information about Third Wave Advertising or Third Wave Digital, please call (478) 750-7136, visit www.twd3.com or e-mail info@twa3.com.
###
Contact
Third Wave Digital
Bart Campione
478-750-7136
www.thirdwavedigital.com

Contact