Laurence Fuller's West End Debut - Madness In Valencia at Trafalgar Studios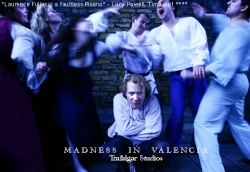 London, United Kingdom, February 09, 2010 --(
PR.com
)-- Laurence Fuller takes the stage this week in the his West End debut, Madness In Valencia at Trafalgar Studios. The play is a dark restoration comedy and Fuller's part has been described as joker-esque, a foreshadow of things to come from this young Aussie actor.
www.laurencefuller.com
Following a fringe run at the The White Bear Theatre in London, which received rave reviews "Laurence Fuller is faultless as Pisano" **** Lucy Powell, Time Out (Critics choice & Show of the week), the show was picked up by Trafalgar Studios and Ambassadors Theatre Group.
Fuller re-teams with director Simon Evans, the pair also worked on the Time Out critic's choice show Mithanthrope at The White Bear. Set in a 17th century insane asylum, Madness In Valencia was described as a "Whirligig of pleasure" by Time Out. Fuller plays the mad doctor of the asylum, crazier and more dangerous than the inmates, winning the role with a monologue from Richard III, there's a charismatic villain to Fuller's performance.
Fuller grew up in Australia, after moving to the UK to train at Bristol Old Vic Theatre School in 2007, since he has made 10 short films including Possession(s) which was recently acquired by the ABC for broadcast;
"Laurence Fuller shines in the lead role [Possession(s)] and it is easy to see why he is a much sought after young actor. Having attended the Method School of acting in the UK, Fuller has put together an impressive acting CV in both theatre and in short films. As well as acclaimed stage performances in the likes of Madness in Valencia, Fuller has also created his own film company Oil and is truly making a name for himself across the world – he has, to date, worked in three separate continents. He is hoping to soon add a fourth with work in the United States." - Kieron Casey, Reel Loop 01/12/09
Catch Laurence Fuller in Madness In Valencia at Trafalgar Studios in London's West End from February 9th - March 6th 2010
###
Contact
OIL Films
Lisa Santos
+44(0)7789906145
http://www.laurencefuller.com

Contact