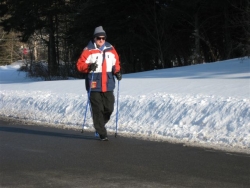 Glen Arbor, MI, February 11, 2010 --(
PR.com
)-- Nordic Walking Poles can easily help to turbo charge the average walking campaign. And for those that find walking difficult, the addition of dependable one-piece Nordic Walking Poles, can help to make walking not only doable, but also more comfortable and effective.
Cardiovascular diseases, including stroke, are our nation's #1 killer. To urge Americans to join the battle against these diseases, since 1963 Congress has required the president to proclaim February "American Heart Month."
According to the Surgeon General "the enemy is within us - being sedentary. Walking is the biggest bang for our buck. Thirty minutes a day of walking will prevent many cases of diabetes, hypertension, and other chronic diseases. Walking is the simplest, easiest way for most people." Individuals that have taken advantage of quality one-piece Nordic Walking Poles, sized correctly for their heights, have successfully lost weight and eliminated and/or decreased the need for many types of medicines.
SWIX and EXEL Nordic Walking Poles from Skiwalking.com and The American Nordic Walking System
are providing a winning combination of improved posture, a unique 4-Wheel-Drive type action and shock absorbing benefits - helping many individuals to walk comfortably again. The correct length Nordic Walking Poles are helping individuals with balance issues, knee issues or new knees, hip issues or new hips, back issues (including those with rods in their back), weight issues, multiple sclerosis (MS), parkinson's (PD), neuropathy, arthritis, bursitis, heart disease, scoliosis, lumbar stenosis, fibromyalgia, post polio, osteoporosis, stroke recovery, cancer recovery and other limitations to walking. Nordic Walking poles are helping thousands of Americans get off the couch, successfully get outside, start walking safely and effectively launch much needed walking campaigns.
Skiwalking.com and the American Nordic Walking System offer 14 different lengths of Nordic Walking Poles – more lengths than any other retailer in North America. These effective one-piece Nordic Walking are also ideal for casual walking, hiking and trekking - proving to be safer, lighter and much more durable than flimsy 2-piece and 3-piece adjustable length/telescoping/collapsible poles that tend to rattle, vibrate and/or collapse unexpectedly.
Skiwalking.com and the American Nordic Walking System donate quality one-piece Nordic Walking Poles to the Wounded Warrior Programs.
Real Nordic Walking Poles are equipped with removable rubber tips/paws for use on pavement and other hard surfaces. When the rubber tips are removed a metal tip is exposed for use on trails, grass, the beach, snow and ice. All SWIX and EXEL Nordic Walking Poles from Skiwalking.com and the American Nordic Walking System are also equipped with real Nordic Walking Straps – comfortable fingerless glove type straps patented by the Salomon Ski Company
Over 7 million Europeans are walking with Nordic Walking Poles – in the cities, out in the country and up in the mountains. The highest concentrations of individuals utilizing Nordic Walking Poles are in the Scandinavian Countries – where walking and skiing are a part of their culture. If Americans started walking more we could radically improve our national level of cardiovascular health.
###