The Providence Effect Documentary Announces Television Premier
The television premier of the award-winning documentary, The Providence Effect, will air on local TVOne stations on Sunday, February 28, 2010 at 12PM, EST. It will air at the end of Black History month to recognize the continued struggle of ethnic minorities and poverty-ridden neighborhoods need to overcome their limitations and build their schools from within.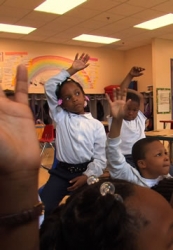 Chicago, IL, February 16, 2010 --(
PR.com
)-- The documentary traces the development of the Providence St. Mel school in Chicago's crime-and-gang-ridden West side from a struggling shoe-string budget dream into a school and a method of teaching that produces not only inspired students, but parents, teachers and administrators dedicated to settling for nothing less than the highest expectations.
Watch the compelling tale of one inner-city school's fight from a struggling inner city school to a pre-K-through-12 educational system that produces graduates who attend Ivy League colleges and universities.
This is a must-see event for parents, educators, administrators, students and communities who expect more from their education system.
Find a local TVOne station
.
The film has spurred a grassroots drive to improve the American education system from the inside in the "
Providence Effect Movement to Save American Education
."
About the Providence Effect
The Providence Effect follows a year in the life of Providence St. Mel School (PSM) and the first year in the life of Providence Englewood Charter School (PECS). Providence St. Mel is an independent private school where 100% of its inner city Chicago, primarily African American, graduates have been accepted to 4 year colleges and universities for over 30 years. Over the last 8 years, over 50% of the graduates have been accepted to Tier 1 schools. Providence Englewood Charter School, a K – 8 school, was born out of Chicago's charter school movement through Renaissance 2010, an initiative designed to create more high quality educational options across Chicago. The documentary dispels the myth that urban children cannot learn and achieve.
###
Contact
The Providence Movie
Marsha Clesceri
(847) 559-2255
www.providenceeffect.com

Contact