Vertical Streaming, Building Custom Online Concepts, Designs and Features to Make Individuals More Competitive in Their Professional Lives
Vertical Streaming helping the International Safety Resource Association provide important online resources to the public.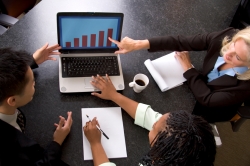 Los Angeles, CA, February 19, 2010 --(
PR.com
)-- The International Safety Resource Association (ISRA) is a Non-Profit Corporation dedicated to providing low cost services and programs related to safety training in order to help individuals better equip themselves for employment in various industries.
Their safety training courses allow individuals to gain a competitive edge in anything from construction and maintenance to nursing and homeland security positions. Now, Vertical Streaming has made it even easier and more convenient for the ISRA to reach people by making training and certification videos available to stream online.
Vertical Streaming created the ISRA site
safetyforjobs.org
from the ground up; the concept, design and features were all custom made to serve viewers a completely branded and engaging experience. The site also came complete with the VS state of the art
Pay-Per-View
platform and easy to use data management system that makes tracking, training and certifying individuals a breeze.
The interactive training tools, quizzes and tests ensure that trainees understand the material, and at the end of the course they receive any transcripts and certifications earned to verify their completion of the course.
When it comes to online video delivery, data management and building/launching a live web site Vertical Streaming is literally a one-stop shop. Now, getting trained and certified in safety, loss control and risk management is more accessible than ever, making getting an edge on the job market possible for everyone.
###
Contact
Vertical Streaming Inc
Chuong Thai
888-635-6888
verticalstreaming.com

Contact