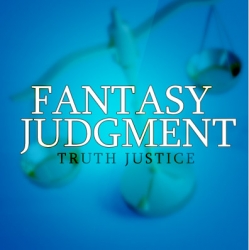 Freehold, NJ, February 24, 2010 --(
PR.com
)-- When Michael A. Stein, in his capacity as Commissioner of his fantasy baseball league, had to rule on an issue that also happened to involve his own team, he wondered how frequent such an occurrence was in other fantasy leagues. This dilemma formed the basis for the creation of Fantasy Judgment (
www.fantasyjudgment.com
) a one-stop shop for the resolution of fantasy sports issues and disputes.
"I knew I had to make a timely decision, and I knew I made the right decision. But the fact that my own team was involved put me in a conflicted position. I don't ever want to be in that situation again," said Stein, the owner and Chief Justice of Fantasy Judgment. "It is imperative to maintain the integrity of your league." With the creation of Fantasy Judgment in 2009, Chief Justice Stein has now provided the ideal forum for all fantasy sports leagues to have issues resolved independently and professionally.
The Supreme Court of Fantasy Judgment is comprised of a 5-person panel of fantasy sports experts, all with decades of fantasy sports experience and unrivaled professional backgrounds which provide the basis for its expertise. Led by Chief Justice Michael A. Stein, the Fantasy Judgment bench rules on any issue or dispute submitted through its website and render a professionally written decision within 24 hours of the final submission. With a background as an attorney, Chief Justice Stein authors U.S. Supreme Court-like decisions with a detailed factual background, summary of the case's procedural history, overview of the issues presented, and a thorough analysis and conclusion deciding the issue. The remaining Associate Justices will concur or dissent with the opinion and author any required addendums. Fantasy Judgment specializes in baseball, football, basketball, and hockey disputes; however, Fantasy Judgment has indicated it would accept submissions for other fantasy sports such as NASCAR, golf, tennis, and college sports.
Fantasy Judgment has also received accolades and media coverage for its commentary and analysis on the fantasy sports industry and various issues that have arisen (www.fantasyjudgment.wordpress.com). With multiple appearances in the Metro U.S. newspaper and on CBS Radio, Fantasy Judgment was the focus of various articles and interviews centered around the fantasy sports industry. According to Chief Justice Stein, "the fantasy sports industry has gained mainstream acceptance with its recent explosion in participation, growth and prosperity. However, there is still a lot of work to do in order to remove the misconceived perception that fantasy sports is a form of gambling." Chief Justice Stein, a fantasy sports advocate, has indicated that Fantasy Judgment will also be used as a platform to promote and defend the fantasy sports industry through historical, legal, and practical analyses.
With the 2010 baseball season on the horizon, Fantasy Judgment has fine-tuned its resources to be prepared for dispute submissions regarding issues that may arise during fantasy baseball drafts. "There is an infinite number of potential issues that can arise just during a fantasy draft," opined Chief Justice Stein. "Issues such as the selection of draft order, trades of draft picks, forfeiting draft picks because of time violations, player position eligibility, roster completion, disabled list status, minor league player slots, auction bids, and a plethora of others are all issues that Fantasy Judgment can resolve impartially and expeditiously."
If you would like more information on any of these topics, or to schedule an interview with Chief Justice Michael A. Stein, please send an email to
michael.stein@fantasyjudgment.com
.
###