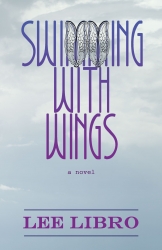 Bradenton, FL, March 16, 2010 --(
PR.com
)-- Artist and short story author, Lee Libro, releases her debut novel, "Swimming With Wings."
About the Book (Excerpts & Info):
Have you ever felt like you were out of your element living here on earth? Have you ever imagined that maybe you really had wings? In her first novel, Lee Libro, visual artist and author of short stories garnering nationwide appeal, brings you the story of Lark Jennison, a character facing just such a dilemma. "Swimming With Wings" is a blend of southern literature with a dash of mystery and paranormal romance.
"Swimming With Wings" follows the journey of three very different characters: a 19th century light healer; his grandson, a would-be superstar of the evangelical world of the 1970's; and Lark Jennison, a free-thinking, orphaned artist with an eccentric imagination. Stemming from a shared tragedy from long ago, their stories convergence with a famous American sculpture residing in the Portland Museum of Art and the hidden secrets of a tumbledown plantation, ultimately releases a tale of human brotherhood and true spiritual love.
Perfect bound and expertly constructed at 286 pages, "Swimming With Wings" includes a Reading Group Guide aimed specifically at the book club market and is being further promoted to markets with a focus on the New Age and Literary Fiction categories. With Global wholesale distribution through Ingram, Barnes & Noble, Baker & Taylor, and online exposure through book blogs, book reviews, availability through the CreateSpace online store, the Association of Independent Authors store http://www.independent-authors.org, Amazon.com and more, "Swimming With Wings" meets consumer demand through both retail and library markets with a suggested retail price of $13.99 and $6.99, respectively.
"Swimming With Wings" can also be ordered by retailers or wholesalers directly from The Quill Guild at wholesale by emailing TheQuillGuild@aol.com. To qualify for the maximum trade 50% discount, order in quantities of four or more.
ISBN: 9781450580434 Format: 5 x 8 Paperback SRP: $13.99
For more information or to contact the author, visit www.swimmingwithwings.com linked at the bottom of this release.
About the Author:
Visual artist and freelance writer, Lee Libro lives in Florida with her husband, children and two dogs. She grew up in Augusta, Georgia and Portland, Maine and earned her B.A. degree in English specializing in Renaissance literature at the University of Connecticut. She spent nearly ten years in Marketing Communications and then the following decade as a foreign language translations editor.
She is currently working on two additional novels. One is based on the true life story of her own great, great aunt, Dr. Alice Lindsay Wynkoop, accused and convicted of murdering her daughter-in-law on the surgery table, a suspected abortion case covered by national media in the 1930's. The other is a modern adaptation of Nathaniel Hawthorne's short story, "Rappaccini's Daughter," involving a modern day neurobiologist who tampers too far with the chemistry of the mind, and in so doing, discovers the threshold of the soul.
About The Quill Guild and CreateSpace:
The Quill Guild, located in Bradenton, Florida, provides consultation and services geared to the ever-changing new technologies involved in book publishing and promotion. CreateSpace, a division of Amazon, is spearheading the future of book publishing, today.
Press Contact:
The Quill Guild
P.O. Box 110321
Bradenton, FL 34211
USA
TheQuillGuild@aol.com
http://www.swimmingwithwings.com
###