REACT Systems Releases REACT Desktop Notification for Apple OSX Computers
Apple OSX platform supported to broaden communication in emergencies and critical events.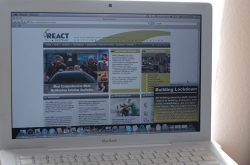 Los Altos, CA, March 24, 2010 --(
PR.com
)-- REACT Systems, Inc.™, the innovator and leader in delivering global Mass Notification and Critical Response Notification Systems that unify vital actions in emergencies and time-sensitive situations, today announced the availability of the REACT Player for Apple OSX-based computers. This new addition to the REACT software solution allows organizations to provide critical information as well as general staff messaging to Apple Mac computers as well as to the Windows based computers already available with the REACT solution.
Desktop messaging, a core feature of the REACT solution, provides immediate notification and the ability to provide specific instructions to individuals on desktop and mobile computers. Through the use of notification to desktops and other methods of communication, REACT provides the ability to reach thousands of people in just a few seconds. Instructions can be tailored to the individual, group, building or region and can contain audio, text, and graphics to quickly convey the proper procedures even for complicated response procedures. In addition to desktop notification, REACT provides SMS text messaging, telephone notification and email. REACT is easily integrated with other solutions such as fire alarms and security systems, and provides a solution that not only communicates quickly, but also streamlines the entire process of response from initiation to all clear.
"We are constantly looking at additional ways of disseminating information within an organization. By supporting Apple computers, we have significantly expanded the ability of our customers to distribute information in emergencies. This capability is particularly important to our customers in education environments. Our goal is to allow our customers to reach people as quickly and reliably as possible so that they can have a positive impact on their own safety and response to emergencies. This release helps organizations to do just that by reaching more people with the information they need and keeping them up-to-date." said Jeremy Krinitt REACT VP of Product Marketing.
REACT will be demonstrating the REACT Mac Player at the ISC West trade show in Las Vegas March 24-26 at the Lenel booth (#14087). Demonstration of the REACT solution is also available at the Honeywell Security booth (#14023).
REACT Systems offers a free-30 day trial of REACT! Enterprise. For more information on how to obtain a free trial, please visit http://www.reactsystemsinc.com/technology/trialsignup.php
For more information or to speak with a representative about REACT! Enterprise or integration capabilities please contact:
Jeremy Krinitt
650.694.4504
jkrinitt@reactsystemsinc.com
About REACT Systems, Inc.
REACT Systems™, Inc. is the innovator and leader in high performance, reliable, global mass notification and critical communication systems that unify critical actions in emergencies and time-sensitive situations. REACT enables health care providers, educational institutions, public safety agencies, facility operators and corporations to dramatically improve effectiveness in critical response by assuring incident readiness and real-time, coordinated response. The REACT system can notify first responders and those at risk anywhere in the world, within seconds, delivering targeted video, audio, voice and text-based information via any mode of communication. It is cost effective, fully scalable and configurable for ease of installation, integration and change management. REACT products are commercially available and can be quickly deployed.
###
Contact
REACT Systems, Inc.
Jeremy Krinitt
866.982.7662
www.reactsystemsinc.com

Contact