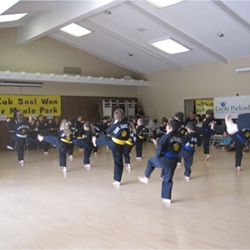 Menlo Park, CA, March 30, 2010 --(
PR.com
)-- Last Saturday was the first day of Spring Break for the Public Schools in Menlo Park, CA. While most kids were starting a family vacation, 27 youngsters aged 5 to 14 put their vacation off for a day. From 11 am to 12 noon these young martial artists kicked. And kicked. And kicked some more.
Some took breaks here and there. Others tucked their water bottles into their belts so that they could hydrate without stopping. When they had finished, the group total was over 50,000 kicks. Each child contributing just above or below 2,000 kicks.
"I could not believe he kept up with them," said the mother of a 5 year-old student. "He did every kick the bigger kids did, and he never took a break."
This wasn't a Black Belt test. There was no rank reward at the end of it. No prize for doing the most kicks. What motivated them to keep going?
Compassion.
These kids were not kicking for themselves. They were kicking for every child who has ever or may ever set foot in the Lucille Packard Children's Hospital. It paid off, too. Their 50,000 kicks translated into just over $7,000.00 for the Foundation that supports LPCH.
Kuk Sool Won of Menlo Park is dedicated not only to developing strong martial artists, but also to developing strong community members with great character. For two years now, the Menlo Park, CA martial arts program has dedicated an afternoon to raise money for the Children's Hospital.
"It's very important to me that our students have a chance to find out what kind of impact they can have in their community, " said Chief instructor Kristin Quintana. "We picked the Children's Hospital because it just seems natural for kids to help other kids."
To learn more about the programs at Kuk Sool Won of Menlo Park, visit http://www.menlokuksool.com
###