West Covina Symphony Orchestra Presents - "Beethoven Extravaganza" at 4pm on Sunday April 25, 2010
The West Covina Symphony Orchestra presents a "Beethoven Extravaganza," the 3rd concert of the"Music of the Masters" Series of full orchestra concerts, Sunday April 25, 2010, 4pm in the Haugh Performing Arts Center of Citrus College in Glendora, CA.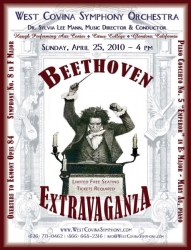 West Covina, CA, April 23, 2010 --(
PR.com
)-- Under the direction of award winning conductor Sylvia Lee Mann, the West Covina Symphony Orchestra is proud to present an All Beethoven Extravaganza. For the orchestra's debut in their new concert venue (Citrus College's Haugh Performing Arts Center) they will perform a dynamic and energetic all Beethoven program. The concert includes the Overture to "Egmont," the Eighth Symphony, and the orchestra welcomes pianist Mary Au in a performance of the "Emperor" Piano Concerto No.5.
About Mary Au:
Known for her "sensitive, seamless transition between chamber music collaboration and piano accompaniment," is a much sought after pianist whose artistry embodies her worldwide experience. Heralded as one of the "Outstanding Young Women of America," Ms. Au's collaborations in recitals and master classes with esteemed artists Christine Brewer, Nathaniel Rosen, Natalia Gutman, Janos Starker, Steven Isserlis, Boris Pergamenschikow, Mstislav Rostropovich, Evan Drachman, Ruslan Biryukov, Ruggiero Ricci, Myung Whun Chung, and Elly Ameling have left a lasting impression on audiences from all walks of life. Her recordings with cellist Ruslan Biryukov have been enthusiastically received. Courted by Chinese officials, Ms. Au performed in the IFEA Award winning Nanning International Arts Festival in China. Mary Au is a graduate of the Royal Academy of Music and the University of Southern California. Her mentors include Kevin Fitz-Gerald, Daniel Pollack, Gordon Green, Brooks Smith, Alice Schoenfeld and Eleonore Schoenfeld. As a former executive of the Grammy Awards, Mary Au continues to dedicate herself to crossing cultural boundaries and sharing her musical fabric with audiences worldwide. To read more about Mary Au, please visit
http://www.aumary.com
.
This concert marks the 3rd full symphony orchestra concert of the orchestra's 2nd season. The West Covina Symphony returned to the musical scene last year after a lengthy absence of about 20 years. In spite of challenging times, the symphony has triumphed, completing an exciting inaugural season in 2008/9, and continuing to grow as the second season begins. The orchestra is again presenting a complete season of full orchestra concerts, and this year also presents a world-class chamber music series, their "Artist Series, Sonic Tapestries." The educational outreach program, which makes free concerts available to local schools, is in full swing, and the West Covina Music Academy is well underway. After years of desolation, the East San Gabriel Valley once again has a fully functioning Symphony Orchestra.
The symphony made nearly 600 free general seating tickets available for this concert, which have all been distributed to very excited concertgoers. There are additional tickets available to students and senior citizens for $5, Reserved seating for adults is $10, and VIP tickets are available for $20. The VIP tickets include reserved premium seating and autographed souvenir posters.The tickets are available on the orchestra's website,
http://westcovinasymphony.com
, and at Burt's Music in Print, located at 186 E Rowland, Covina CA, 91723. Tickets are also available by phone, at 626-771-0462.
Symphony Society memberships will be available before and after the concert, as well as during concert intermission. The symphony will be offering some very special membership premiums and door prizes at the concert.
The Symphony's "Music of the Masters" series will be presenting the 4th full orchestra concert of the season on June 6, 2010: "The Winners" concert - Rimsky-Korsakoff's "Capriccio Espagnol," the 1st and 2nd place winners of their Young Artist Competition will be performing. Audrey Yim will play the Liszt Piano Concerto No. 1, and Eleen Yeh will play the third movement of the Sibelius Violin Concerto in D minor. The concert will be featuring the dynamic cellist Ruslan Biryukov, performing Prokofiev's "Sinfonia Concertante" for Cello and Orchestra.
For additional information about the West Covina Symphony Orchestra and the April 25th "Beethoven Extravaganza" or the June 6th "Winners' Concert" contact Sandy Gunn or Dr. Sylvia Lee Mann or visit
http://westcovinasymphony.com
(626) 771-0462.
About the West Covina Symphony Orchestra:
"Our purpose is to enrich our community by engaging audiences and inspiring a love of music through exciting live symphony performances, innovative programming, and educational outreach," Dr. Sylvia Lee Mann.
The symphony needs everyone's support. All donations are tax-deductible. We accept donations of any amount. Please visit our website to discover how to support the symphony.
http://westcovinasymphony.com
Program advertising is still available. Businesses, please contact us about advertising and community partnership opportunities. visit the website or call (626)771-0462 today.
The West Covina Symphony is a community orchestra offering full orchestra and chamber music concerts, innovative programming, and educational outreach to enrich our community and opportunities for musicians in Southern California.
Visit our website now to support the symphony.
###
Contact
West Covina Symphony Orchestra
Sylvia Lee Mann
626-771-0462
http://westcovinasymphony.com
Sandy Gunn, manager
sgunn@westcovinasymphony.com

Contact