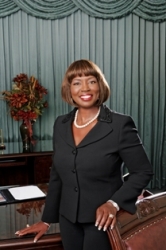 Riverside, CA, June 05, 2010 --(
PR.com
)-- Senior Publishing Editor, Starla Porter is proud to announce Zoe Life Publication's most recent release written by Linda Smith, CEO/President/Founder of Four-D College (www.4DCollege.com) Love Letters to the Lord a three volume set. The first is subtitled A Modern Day Example of Unwavering Faith, the second is subtitled Buried Treasures of Faith, and the third is Still Standing!
After sharing what Smith calls her 'personal expressions to the Lord', it was agreed that her expressions were simply love letters written to the Lord on a daily basis. She provides intimate details as to how it all began, chronicling from 1991 up through 2000 within the three-volume set released this June. Smith allows the reader a glimpse into her world as she balances her faith in God, her responsibilities as a wife, mother, grandmother, and president of a healthcare training institution.
Love Letters to the Lord will satisfy a wide spectrum of readers: entrepreneurs, faith-based groups, those with multiple levels of accountability, and especially those with relationship issues within the workplace, family, friend or marriage related, there's something for all social groups.
No matter the point of attraction to Love Letters to the Lord, the reader will be satisfied and inspired by the consistency of faith that is demonstrated throughout her personal life and business success. Smith hopes the reader will be so inspired by her life's journey, that they too will be inclined to find a void a fill it by serving humanity in some fashion or another.
Smith's books can be purchased through her websites: www.loveletterstothelord.com and
www.lindalsmith.com
. It has come as no surprise to them that know Linda Smith that her life's story is garnering interest quickly. Throughout the years she has been a pillar to her community and neighboring cities providing the leadership needed to guide others toward success. She, like most authors, will make connections through book signings and speaking engagements that will allow her an opportunity to share her empowering story and encourage others to not lose sight of the dream, the call, the assignment and plan for their life. Her Life & Legacy book tour launches this June. Follow the tour on www.loveletterstothelord.com.
For more information about hosting a book signing or to feature Linda Smith as a keynote speaker, she may be reached by email at lindaloveletters@aol.com or 951.442.2403.
###