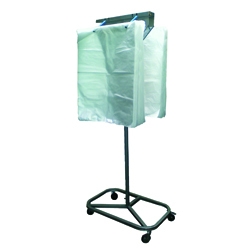 Traverse City, MI, June 11, 2010 --(
PR.com
)-- Frozen meats, dried fruits, spices, nuts and chocolate are all examples of foods or food ingredients that are packaged in a box with a plastic liner or bag inside to protect them. The issue for the manufacturer is how to insert the bags into the boxes quickly and efficiently minimizing opportunities for contamination. While some food manufacturers have the capital needed to invest in automated packaging equipment for erecting cartons and inserting bags or liners, many companies rely on individual workers to insert bags – a slow and tedious process. The EasyOpen Manual Bag Placement unit from
Plascon Packaging
and Niverplast increases the speed of bag insertion into a box, carton or crate, decreases contamination risk and makes the process much more ergonomic for workers on the production line.
The
EasyOpen Manual Bag Placement Unit
is an internationally patented bag insertion system that consists of a stand with special pins that bundle and hang bags on two sides. Bags are specially perforated and indented to release and open properly on the EasyOpen unit. To insert a bag, the side of the bag is first loosened and the worker places their hands into the bag. The worker then pulls their arms down, pulling the bag from the unit and placing it into the outer container - a box, carton, or crate. The rear side of the bag is loosened automatically. The EasyOpen unit is mobile with adjustable height.
In studies by Niverplast, a typical worker inserts 200 bags/hour using traditional bag insertion methods such as using bags on a reel and inserting individually. Use of the EasyOpen unit increases this insertion rate by up to 50% leading to a possible 33% reduction in labor costs and an increase in production speed.
As the North and South American distributor of the Niverplast EasyOpen Unit,
Plascon Packaging
offers both the equipment and bags to meet specific food packaging requirements. Liner bags are made in the United States at Plascon Packaging's Michigan blown film plant and are available for the EasyOpen Manual Bag Placement Unit or for fully automated bag insertion machines from a variety of manufacturers including Niverplast, K&R Equipment, Pattyn Packaging, OK International Group, Pearson and Thiele Technologies.
About Plascon Packaging:
Plascon Packaging serves customers throughout North and South America with an extensive line of flexible food packaging including Cook-Chill Systems, Form-Fill-Seal films and PanGuard high temperature liners. Plascon Packaging products include those of a valued partnership with the Cryovac Sealed Air Corporation.
###