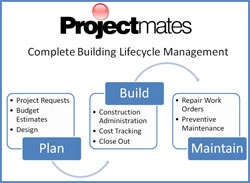 Dallas, TX, July 15, 2010 --(
PR.com
)-- Today, Systemates announced the City of Tacoma as the newest client of its
construction management software
, Projectmates. After a comprehensive bidding process, the City's Environmental Services Science and Engineering Division (ESSE), part of its Public Works Department, chose Projectmates to manage the construction of their capital improvement projects. Among other factors, the City chose Projectmates for its functionality, training resources, and speed of implementation.
Construction will begin early August on the City's Solid Waste Recovery and Transfer Center at the Tacoma Landfill in Wash. The new center will provide space for separating and recovering recyclable materials from the waste stream. Lewis Griffith is the Professional Civil Engineer and Project Manager for the center. When asked what sets Projectmates construction software apart from other software the City researched, Griffith quickly answers, "The speed of implementation and the training and support staff set Projectmates apart."
The City will start another capital improvement project, the 2-story, 14,000 square-foot expansion of the Solid Waste Administration Building. Construction will begin in October. Projectmates will allow the City's construction management staff, design consultant teams, and contractors to collaborative online via its 100% web-based platform, which doesn't require any software installation. The web-based platform contributes to quick implementation and is essential for a team geographically spread out with team members working in various offices and others in the field. Projectmates drastically improves response time for construction workflows like RFIs, submittals, and document approvals and reduces high costs associated with traditional print-and-mail submittals. The Division is pursuing LEED Silver certification on both projects.
"Owners need construction management software that delivers cost management and project transparency. Project Managers need software to keep projects on track and team members accountable. Once again, Projectmates has proved itself as the best software solution for the job," said Hemant Bhave, Vice President of Systemates. "We thank the City of Tacoma for selecting Projectmates and look forward to our partnership."
About Systemates, Inc
Founded in 1995 by leading architects and software engineers, Systemates developed Projectmates to equip owners and owner's representatives with a secure, sophisticated Web-based construction management software solution. Projectmates' collaborative platform dramatically improves project execution and cuts costs and delays, increases accountability and reduces risks. With its cutting edge technology, Projectmates creates one seamless platform for managing the complete lifecycle of a building, from planning, bidding, and building to maintaining the facilities. Over 25,000 users from organizations such as Retailers, Real Estate developers, Educational and Government agencies rely on Projectmates to manage billions of dollars in capital construction programs. Systemates is privately held and headquartered in Dallas. To learn more about Projectmates by Systemates visit
www.projectmates.com
.
###