Passionate Entrepreneur Creates First Comprehensive Action Sports Event Calendar Online for the Skateboarding, Surfing and Snowboarding Community
New Extreme Sports Events Calendar glues a fragmented industry together for a common purpose; to find local competitions, party and meet pro athletes in the skate, surf, snow, wake, bmx, skim and moto industries.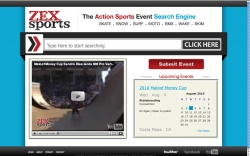 Los Angeles, CA, August 10, 2010 --(
PR.com
)-- Action Sports media company ZEXsports elevate their 2010 initiatives and leverage their knowledge of social media and viral marketing to help small and large brands connect with the local influencers via action sports events.
The desire in the action sports industry to understand interactive communication is overwhelming and under serviced. There are all those supposed "Experts" in other industries, but few who understand the culture of action sports.
ZJ Boarding House in Venice, California, a local core shop says, "ZEXsports has been coaching us in social media. We can speak semi-intelligently on the subject only because of their help."
Their site ZEXSports.com has embraced technology to be the go-to website for action sports event information featuring the most comprehensive database of quality action sports events across the United States displayed on an interactive map with post event photos. This puts their company in the hub of the community on and offline, enabling the team to effectively educate brands on how to connect with their target audience.
"ZEXsports has their finger on the pulse of the action sports world. As a result, you really 'feel' the positive vibe when on their site and when working with them. They are professional and committed to keeping the integrity of our culture," Dan MacFarlane Mentality Skateboards, and Skateboarding explained.
Action sports enthusiasts are passionate and highly impressionable. While typical advertising programs can be effective, this company is opening a possibility for something more powerful. Large events and celebrity sponsorships, dominated by companies like Billabong and Oakley, are extremely expensive. This new resource taps into the influential players in each neighborhood opening the door to new product placement opportunity and brand awareness.
About ZEXsports:
ZEXsports connects brands to action sports influencers through service, culture and community.
###
Contact
ZEXsports : Action Sports Event Calendar
Espree Devora
310-683-0734
www.zexsports.com

Contact
Multimedia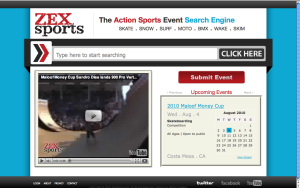 The Action Sports Event Search Engine. Submit events and Search events related to the action sports industry. Events in the calendar include competitions, demos, movie premieres, art shows, fashions shows, athlete signings all related to skateboarding, surfing, snowboarding, motocross, bmx.