Extended Warranty Company and Car Service Contract Provider US Direct Protect Announces a Pay as You Go Auto Warranty Program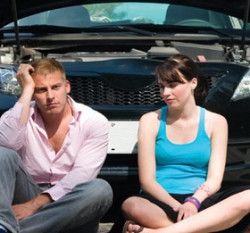 Costa Mesa, CA, August 14, 2010 --(
PR.com
)-- US Direct Protect, one of the largest sellers of Extended Warranties and Vehicle Service Contracts announced today that in partnership with Gold Key Auto Warranty Group, will now sell a pay as you go Auto Warranty program.
With a typical warranty program, any time a consumer purchased a contract with payment terms that are less than the coverage term of the contract they are effectively pre-paying for these contracts. For example, if a consumer were to purchase a car warranty at a price of $3,000 that had a coverage period of 60 months yet finance the purchase of the contract for a period of 12 months interest free, the consumer would pay $250 per month for that 12 month period. Yet, the consumer's actual monthly cost for the coverage is only $50 per month (assuming equal time and mileage of use). And these policies work great if you plan on keeping the vehicle for many years and can afford an extra 250.00 a month. But for many people, this puts protecting their vehicle out of reach.
David Cunningham Owner and CEO of US Direct Protect states "This is just another example of the bar being raised, For many years we have had customers ask us why we do not provide a pay as you go
auto warranty
, that they would love coverage, but they just cannot afford it," tells Cunningham. "Well now they can,c he ends.
"This is revolutionary as far as Vehicle Service Contracts are concerned," says Scott Victor, Vice-president of Marketing at US Direct Protect. "This cuts the customer's monthly payment down 50-80% and still provides them great coverage. This changes the whole ballgame, and US Direct Protect leads the way."
At the moment very few
Extended Warranty
Companies provide this coverage. " US Direct Protect is always on the cutting edge of new products and services related to this Industry , we are very excited that Gold Key came to us to sell this program. We are also setting up a portal on our website so customers can sign up for this program and pay the activation fee all without picking up the phone. Within minutes of entering the website they can purchase protection for their vehicle, and not put any stress on their monthly budget. And more importantly, they too can have the peace of mind Thousands of consumers already experience."
###
Contact
US Direct Protect
David Cunningham
1-888-502-4697 ext 301
www.usdirectprotect.com
www.CarServiceContract.com
www.seomarketingteam.com
www.baretraxpro.com

Contact