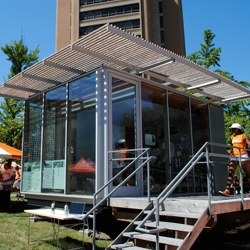 Knoxville, TN, September 14, 2010 --(
PR.com
)-- Robbie Thomas, President of Efficient Energy of Tennessee (EETN) is proud to announce a newly established partnership with the University of Tennessee, Knoxville's Team Living Light.
EETN will help promote Living Light and has offered to utilize their network to find opportunities for the team to present to other corporations and organizations from which the team hopes to foster new relationships and possibly other partnerships.
Team Living Light has been accepted as one of 20 University teams from around the world to compete in the U.S. Department of Energy Solar Decathlon 2011. This prestigious, internationally recognized competition challenges each team to design, build, and exhibit an energy-efficient, solar-powered home. In September 2011, the Living Light house will be transported to the competition site on the National Mall in Washington, D.C.
The home design will not only demonstrate a sampling of solar and energy-efficient technologies; it will showcase the long tradition of Tennessee's leadership in design and energy innovation. The rich timeline of developments in climatic design and energy research within the State of Tennessee have been a primary source of inspiration for the Living Light concept. From the Cherokee and early settlers to energy research at ORNL and TVA, the history of climatic design in Tennessee has provided a unique foundation for Living Light and has certainly played a role in the success of the team to this point.
Fielding a successful Solar Decathlon entry is a multidisciplinary effort. Team Living Light is composed of over 120 students from seven educational departments working collaboratively to fully develop the Living Light concept. "The success of our team relies on multi-disciplinary collaboration. The range of contests from architecture and engineering to communications and market appeal requires us all to rely on the expertise of our counterparts in other disciplines. The only way to win this competition is to work together," said Amy Howard, project manager from Living Light.
The Solar Decathlon project presents a unique opportunity for the University to collaborate with researchers, professionals, and community organizations on a project of great significance not only to the University but also to the State of Tennessee. This project demonstrates Tennessee's role in innovative clean-energy solutions while developing a well-trained workforce dedicated to green technologies.
Through partnerships with local and regional corporations and organizations, the team is able to utilize the expertise of industry leaders and garner support for the project. Several regional and national organizations have recognized this project for its ability to support the State's continued leadership in the areas of energy research and high tech manufacturing, and to influence the development of Tennessee's Green Economy.
EETN is the newest addition to the Living Light Sponsor group, which currently includes corporations such as Blaine Construction, LightWave Solar Electric, Owens Corning, and Mallia Engineering Company, and institutional organizations such as Oak Ridge. EETN is partnering with the team to promote the project and to identify opportunities for the Team to engage with industry and community organizations.
Harvey Abouelata, vice president of sales and marketing for EETN, thinks highly of Living Light's potential to enrich the education of UT students as well as its potential to impact Tennessee's role in the solar industry. "We are ecstatic to take a supporting role in the Tennessee Solar Decathlon Team," he said. "This contest is much more than a learning experience for the students on the team. This is truly a demonstration to the world of the ability of Tennesseans to work together to provide the resources for our team to have the best possible chance to win this international competition."
"A win by our students will make a statement about the seriousness of our community in building the fastest growing solar industry in the world. I believe a win could have an avalanche effect in continuing to attract solar companies to expand and/or locate their businesses in the state of Tennessee. That said, get your checkbooks out," Abouelata said.
It's a long road to the competition in Washington, D.C., and developing partnerships and sponsorships in the solar energy industry is important to Team Living Light's success.
From hard hats to solar panels, truck rentals to furniture, it takes significant financial support to compete.
To learn more about sponsorship opportunities and other ways to support Living Light, visit http://livinglightutk.com/support/.
###
About EETN
EETN, located in Powell, was created to provide affordable, quality, sustainable solutions to rising energy demands in Tennessee and the surrounding areas. EETN, NABCEP Certified Solar PV Installers, currently specializes in energy grant writing, solar PV design and installation, as well as power factor correction technology for both residential and commercial customers. For more information, visit
http://eetenn.com/
.
About the U.S. DOE Solar Decathlon
For additional information about the Solar Decathlon, please visit http://www.solardecathlon.gov/.
About Living Light
For additional information about Team Living Light, please visit http://livinglightutk.com. You can also contact the team directly at livlight@utk.edu or 865.974.5211.
To learn more about sponsorship opportunities and other ways to support Living Light, visit http://livinglightutk.com/support/ or contact Tierney Bates at tbates@utk.edu or 865.974.0974.