CMT Worldwide Introduces the Micro-Infrastructure Lighting Solution
CMT Worldwide is proud to introduce the Micro-Lighting Solution delivering a completely integrated independent lighting system for developing markets and communities requiring more environmentally friendly lighting solutions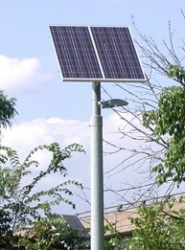 Marietta, GA, September 26, 2010 --(
PR.com
)-- CMT Worldwide has introduced a new Micro-Infrastructure Lighting Solution to solve Outdoor Lighting issues. Over the past 10-15 years, the lighting markets and governments have asked for solutions to deliver environ-friendly lighting to communities that want to reduce dependency on existing power plants and install lighting where power plants can't reach or don't exist. Worldwide believes developing countries can change entire communities by delivering complete environmentally friendly communitywide lighting systems.
The solution includes an eco –Titan Pole, an LED lighting fixture, a solar panel and a battery pack. This combination of components is a complete system sized to the local lighting, geographic and environmental conditions. Each solution is custom designed to meet a communities exact requirements. These configurations generally are installed at the 15 to 20 foot installed height maximizing the projected ground light. Additionally, dual light configurations and other specialized designs to support exacting community specifications are available.
The Micro-Infrastructure Lighting Solution requires no external power plant, the system is completely standalone delivering proper outside lighting. Installations are quickly achieved without significant additional costs or pre-installation requirements.
The eco-Titan Pole represents the first new pole product introduced in the in the world in over 15 years. Composite Materials Technology and CMT Worldwide have invested 10 years developing this patented ground breaking product. Utilizing Owen Corning Technical Fabrics Alkali Resistant Rovings and high performance cement matrix, Titan delivers a superior cost competitive advantage, lower shipping costs and better performance over the products life. Additionally, all products include Radio Frequency Chips for remote tracking, quality control and maintenance.
Visit
www.titanpoles.net
for a complete white paper.
About CMT Worldwide, LLC, Marietta, GA
CMT Worldwide, LLC is the leading provider of Eco-Titan Pole technology to the worldwide market. CMT Worldwide was established in 2006 to assist in expanding market acceptance and market penetration and currently has licensees manufacturing in the United States and Australia.
About Composite Materials Technology, LLC, Valdosta, GA
Composite Materials Technology is the leading provider of Titan poles for the utility, lighting and rail markets. Composite Materials Technology, a leader in cement composites and filament winding research for over 15 years, developed the original filament wound Titan cement composite technology. All products are designed to meet stringent standards in each market sector. Composite Materials is a subsidiary of Langdale Forest Products, a 115 year old Wood products company headquartered in Valdosta, GA
For More Information Contact
Peter Mokhiber, Marketing Communications, 770-509-5562 or email at pmokhiber@titanpoles.net ---www.titanpoles.net
###
Contact
CMT Worldwide, LLC
Peter Mokhiber
770-509-5562
www.titanpoles.net

Contact