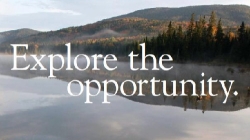 Concord, NH, October 16, 2010 --(
PR.com
)-- For the third consecutive year, the State of New Hampshire's Departments of Insurance and Economic Development will join exhibitors at the American Council of Life Insurers (ACLI) Annual Conference, to be held October 17-19, 2010 at the Hilton Baltimore in Baltimore, MD. The state welcomes conference attendees to visit booth #9 and "sow the seeds of business success" by accepting a gift of black-eyed Susans, the seeds of which are embedded in plantable business cards.
Business Development Manager Michael Bergeron is representing the state at this year's conference. Serving NH citizens since 1997, Bergeron works directly with businesses considering relocating or expanding to New Hampshire. He provides a wide range of services, ranging from site analysis and selection to facilitating state financing and incentive packages. In the insurance industry alone, he has helped nine insurance companies redomesticate to New Hampshire in the last two years.
"As the most livable state in the nation, New Hampshire offers an exceptional business environment for insurance companies," notes Roy Duddy, Interim Director for the NH Division of Economic Development. "With the lowest insurance premium tax in the Northeast, no personal income tax or sales tax, and ready access to skilled labor, businesses and employees alike enjoy the many rewards of working and playing in the Granite State."
Joining Bergeron at this year's ACLI conference is Allen Voivod of social marketing company Epiphanies, Inc., which has helped the Division of Economic Development double their website traffic and create one of the largest economic development presences on Facebook in the US. Voivod will be interviewing industry leaders and capturing highlights to share on the state's new industry-specific "Redomesticate NH" social channels at Facebook.com/RedomesticateNH and Twitter.com/RedomesticateNH.
More information about the conference itself is available at http://www.acli.com/ANN2010/index.html.
About the NH Division of Economic Development
The New Hampshire Division of Economic Development, comprised of the New Hampshire Business Resource Center and the International Trade Resource Center, offer resources to enhance the economic activities of the state through business attraction outreach, in-state business expansion efforts, and facilitation of government and international sales. To find out more about why New Hampshire's low business tax burden and sales and income-tax free tradition makes it the "Most Livable State" in the nation, visit http://www.NHEconomy.com, check out their "No Bull" Business Blog at http://blog.NHEconomy.com, and stay connected to NH Economy's opportunities, grants, and news on Facebook at http://Facebook.com/NoBullBusiness.
About the NH Insurance Department
The first insurance regulator in the US, the NH Insurance Department was created in 1851 and charged with enforcing and administering New Hampshire's insurance laws. The department, an agency of the executive branch of New Hampshire state government, conducts safety and soundness and market conduct examinations of licensees, licenses insurance companies and insurance producers, reviews premium rates and policy forms, provides assistance, information and referral services to New Hampshire insurance consumers, and administers the filing and collection of New Hampshire's insurance premium tax. For more information, visit the Insurance Department's web site at: http://www.nh.gov/insurance.
###