Jonäno "Stood Out from the Rest" at Green Initiative LA Fashion Weekend 2011 Organized by Showtime Series Star Mikey Koffman of the Real L Word
Eco fashion house Jonäno's Spring Summer 2011 Majorca Collection made its debut at The Green Initiative Humanitarian Fashion Show during Los Angeles Fashion Weekend Sunset Gower Studio runway event, where it was presented to Los Angeles's fashion elite and the spear-headers of the green and sustainable movement.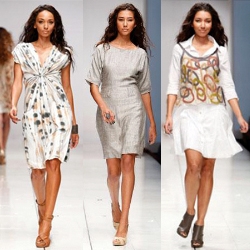 Los Angeles, CA, October 26, 2010 --(
PR.com
)-- Jonäno's signature eco fabrics and attention to sustainable and ethical practices combine with designer Bonnie Siefers' eye for sophisticated yet feminine design in their spring summer offering which found its seasonal inspiration in the Caribbean palette and coastal romanticism of the Spanish island, Majorca. The collection was crafted of organic chenille lace tanks and skirts, bamboo ecoKashmere® sweater knits, natural bamboo linen dresses, hemp denim ensembles and bamboo corn blended MaÏsse™ knits. Tones of heather grays and terra cottas combined with mauves and a pop of cerulean blue to create a softer palette favored by designers this spring.
"Her designs stood out from the rest, with their impeccable attention to detail and luxurious, eco-friendly, ethically made, long-lasting fabrics." Dylana Suarez, The Fashion Spot*
Siefers brings her concept of 'organic essentialism' to this collection with full force, as she remains fully dedicated to sustainably 'from seed to sewn.'
"Scandinavian eco chic sustainable design and quality tailoring are very significant to my aesthetic; I am interested in fresh clean, easy breezy looks that become wardrobe staples – those favorites you reach for time and time again that never go out of style. For me it is the absolute challenge. I call my style "organic essentialism," emerging naturally out of the slow fashion movement. Essential and minimal design techniques underpin the collections and lay at the heart of my creativity. My love for classic silhouettes takes form in eco twists on classic dresses like the 'Audrey,' 'Jackie O' and 'Lauren' (Sophia) inspirational dresses." - Bonnie Siefers, Founder & Designer, Jonäno
An advocate of slow fashion, Ms. Siefers believes that style and quality are essential to sustainable design.
Jonäno is a woman's contemporary fashion house merging sustainable, ethical style with a feminine, cosmopolitan aesthetic. As one of the many green start-ups to arise out of Pittsburgh in the past decade, Jonäno is focused on environmental and ethical sustainability from seed to sewn.
"JONANO" begs the question, "Why should sustainability be stuffy, unaffordable, or overcomplicated?" The Majorca collection answers this question by providing chic and wearable organic pieces perfect for everyday life.
*Read more from this review of the show:
Jonano S/S 2011: Los Angeles Fashion Week | The Fashion Spot
http://www.thefashionspot.com/runway-news/news/109232-jonano-ss-2011-los-angeles-fashion-week#ixzz13OCBjyLE
###
Contact
Jonano
Bonnie Siefers
724-935-9753
www.jonano.com
1-877-ECO-9753
1-724-935-9753

Contact