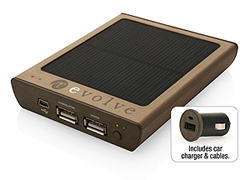 Thousand Oaks, CA, November 23, 2010 --(
PR.com
)-- During a recent trip to the Los Angeles County Fire Department's Station 99 in Malibu, Eli Probst and Todd Metlen, co-founders of Californian startup Revolve Electronics, Inc., gave each firefighter at the station Revolve's flagship product, the xeMini hybrid universal charger and battery backup.
Firefighter Sean McAfee explains that in addition to staying connected with their families, the men of Station 99 must use their personal mobile phones to stay in touch with fellow firefighters while on the job. "A lot of times we get into areas where we can't have radio communications because of the canyons," he says, "so our cell phones do come in handy in communicating with each other on the rig or with other engines in the area."
McAfee demonstrated to Metlen and Probst that there is a single hookup in their truck that each man must share to recharge their phones -- which becomes problematic on any run, let alone one that lasts for three or four days straight or more.
With the xeMini, McAfee and his company will now be able to plug their chargers directly into the wall at the station, then leave on runs with a fully charged phone and two extra charges stored inside the xeMini. Plus, the xeMini's exclusive Light Assisted Power™ technology can use sunlight to help keep its battery charged for as long as they're engaged, so that when the men are on their fourth straight day battling blazes in the canyons they'll still be able to recharge their phones.
McAfee also recognized another scenario where the xeMini could help the fire department's efforts. He told Metlen and Probst that the LAFD sent a team of 40 firefighters to assist with relief efforts in Haiti, where poor conditions and accommodations make it nearly impossible to keep cell phones and other small electronic devices charged. In most circumstances, the xeMini could bypass the need for constant access to AC outlets and could really help in these situations. Revolve's complete interview with McAfee is available on youtube.com or on the Revolve website at www.revolveusa.com.
More on the xeMini -- The xeMini allows users to recharge their cell phones, smart phones, Bluetooth headsets, Flip cameras, iPods -- more than 3,000 devices in all -- from a wall outlet, their cars, their computers, or via sunlight… anywhere, anytime. The housing for the charger is made of a proprietary wood-plastic composite that combines bamboo sawdust waste with recycled ABS plastic, making for a stronger, lighter product and a more energy-efficient manufacturing process. And the device does not expire when its 2200mAh battery finally does -- the battery is replaceable, making for a lifetime of use.
About Revolve Electronics, Inc. -- Revolve Electronics is a new California-based consumer electronics company founded by Eli Probst and Todd Metlen, the designers and developers of award-winning consumer products from companies such as Nokia and Blue Microphones. Revolve focuses on Earth Friendly Electronics™ that seamlessly integrate into consumers' lives and offer a rich user experience… all while maintaining a deep commitment to green.
###