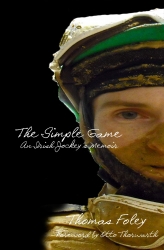 Nenagh, Ireland, December 03, 2010 --(
PR.com
)-- Caballo Press of Ann Arbor author, as well as professional flat and jump jockey Thomas Foley, will be visiting Ireland from December 13 to January 7. He will be in the country promoting his recently released book, The Simple Game: An Irish Jockey's Memoir and his role in Walt Disney Studios' feature film Secretariat. Foley plays the part of Jimmy Gaffney in the movie. Caballo Press officials announced that plans call for Foley to visit a number of bookstores as well as the central public libraries located in Nenagh, Galway, and Dublin, as well as a stopover at Race Academy and Centre of Education (RACE) in Kildare. Foley graduated from the academy in 1997 and shortly thereafter immigrated to the United States. At each stop, he will be reading from and discussing his memoir, and signing copies for those in attendance. A complete list of Foley's itinerary while in Ireland can be found on the publisher's website at www.caballopress.com.
In making the announcement, Caballo Press' CEO and publisher, Rudolph Alvarado, noted that Foley's memoir has been praised in the United States and Ireland for the author's willingness to share the painful details of his life story as he struggled to recapture the passion for horses and horse racing that he enjoyed as a boy in Ireland and came to despise as a man in America.
Writing in the Irish Independent, Kevin Corbett noted that, "From wide-eyed apprentice, to big fish in the small pond of US jump racing, to burnt-out wreck teetering on physical and mental ledges, Thomas Foley reflects on a life lived fast and often heedless in his memoir, A Simple Game.... In it he frankly recounts everything, from the emotional turmoil that sent him down the path to bulimia to the tragicomic circumstances of his confrontation of the problem."
Foley was born in Limerick, Ireland, and brought up in Nenagh and Lorrha in North Tipperary. After completing his training as a jockey at RACE in the Curragh, he moved to America where in his first full year as a professional jockey, he was the leading money-winning apprentice in steeplechase racing and eventually the leading money winner over jumps in 2003. However, the price paid to reach the top of his profession included the loss of his family, his self-respect and his love of the game and the horses that made it all possible.
However, since the release of his memoir by award-winning publisher Caballo Press, and with the aid of his partner Kristin Close, Foley has renewed his passion for horses and and the sport that continues to define his life. He has turned to training thoroughbreds to run on the flat and over jumps. Most recently, he assisted in preparing the Irish-bred Percussionist for the Colonial Cup in the United States.
As far as his acting career, Foley is currently being considered for a number of projects being produced by major motion picture studios in America and he is developing a number of projects for television. Discussions are also underway to turn his memoir into a major motion picture. Most recently, he was invited by Walt Disney Studios Ireland to be a part of the premiere of Secretariat in Newbridge, Kildare. The event was attended by top Disney Ireland officials, as well as by notable members of Ireland's horse racing community. The movie is currently showing nationwide in Ireland.
In addressing his success off the racetrack, Foley stated, "This has certainly been a year to remember and to cap it all off by coming home is something special. I look forward to discussing and reading from my book, as well as attending various screenings of Secretariat."
Foley's The Simple Game: An Irish Jockey's Memoir can be ordered in Ireland and the United Kingdom through O'Mahonys Booksellers. Library orders originating in Ireland and the United Kingdom can be made by contacting Frances Tracey at frances.tracey@omahonys.ie. Special orders can be placed through O'Mahonys Booksellers by contacting Dawn McCarthy at 061-418-155 and special orders placed internationally can also be placed through Ms. McCarthy by dialing the proper international code followed by the number 353-61-418-155. To learn more about The Simple Game: An Irish Jockey's Memoir by Thomas Foley, visit the publisher's website at www.caballopress.com.
###