Book Launch Event for Surviving Cyberwar at the National Press Club December 16
Richard Stiennon, cyber security expert and industry analyst, will be presenting at his book launch for Surviving Cyberwar (Governament Institutes, 2010) on Thursday December 16, 9-11 AM at the National Press Club in Washington D.C.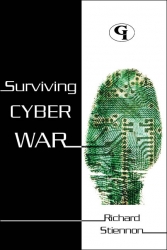 Washington, DC, December 09, 2010 --(
PR.com
)-- Surviving Cyberwar is a narration of the rise of state-sponsored cyber attacks taking us from Chinese thinking on the Revolution in Military Affairs, to the story of Shawn Carpenter and Titan Rain, and up to attacks on Google allegedly originating in China. Stiennon traveled to Estonia to research the 2007 cyber attacks from Russia and recounts the first military operation combined with cyber aggression when Russia invaded Georgia. Crowd-sourced cyber attacks similar to this week's attacks against Mastercard and Visa are explained as well as the evolution of Distributed Denial of Service (DDoS).
Richard Stiennon has held positions at PricewaterhouseCoopers, Gartner, Webroot Software, and Fortinet, Inc. He is founder and Chief Research Analyst at IT-Harvest. He was lauded by NetworkWorld magazine as One of the 50 Most Powerful People in Networking thanks to his insightful research while VP at Gartner. He has presented on cyber threats and cyber defense in 28 countries on six continents. He has spoken at numerous security events including Wilton Park, COSAC, RSA Security Conference, CeBit Australia, Hacker Halted and Auscert. He is frequently quoted in the media including San Jose Mercury News, Wall Street Journal, USA Today, Washington Post, Forbes, and the security trade press. His blog, www.threatchaos.com is syndicated to Forbes.com and InfosecIsland.com. He is a Focus Expert at Focus.com.
IT-Harvest provides strategy consulting for IT security vendors and original research on the booming security industry.
Stiennon will be answering questions on Stuxnet, Google Aurora, and the cyber vigilantism surrounding the Wikileaks release of State Department cables. He will also be signing copies of Surviving Cyberwar which have been provided by the event sponsor, Bit9. All are welcome at this public event.
Bit9 is a leader in Advanced Threat Protection. The company's award-winning products provide total visibility and control over all software on endpoints, eliminating the risk caused by malicious, illegal and unauthorized software.
Government Institutes is a division of Scarecrow Press which is a subsidiary of Rowman & Littlefield.
Contact Karen Ethier for more information on this event or to schedule an interview with Mr. Stiennon. karen@it-harvest.com
Sales contact: richard.montoya@it-harvest.com
###
Contact
IT-Harvest
Karen Ethier
248-709-4774
www.threatchaos.com
www.twitter.com/cyberwar

Contact