Offshore Sailing School Wins Adrian Gold Awards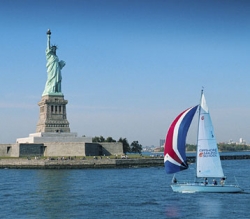 Fort Myers, FL, December 14, 2010 --(
PR.com
)-- A feature on Offshore Sailing School by Dave Caldwell, which appeared in the June 18 Fine Arts Weekend section of The New York Times, has garnered the Gold Award in the HSMAI Adrian Awards to be presented on January 31, 2011 in New York City.
Redpoint Marketing PR, responsible for The New York Times placement, submitted the story in the Feature Placement category. The HSMAI (Hotel Sales & Marketing Association International) Adrian Awards "are the travel, tourism and hospitality industry's 'Oscars' honoring outstanding marketing, advertising and public relations," says Victoria Feldman De Falco, Redpoint's co-owner, who will be honored at the upcoming event. "Thousands of entries compete in a number of different categories, with Bronze, Silver and Gold awards given in each category," she reports. As a Gold award winner, the story is automatically entered to win a Platinum Award, which will be revealed at the awards ceremony on January 31.
Dave Caldwell's story is about the Gonzalez family of Chatham, NJ, which took an Offshore Sailing School Learn to Sail course at the school's Liberty Landing Marina campus in Jersey City, New Jersey. The family of five included Ryan (12), Alex (10), Anthony (7) and their parents Tony and Maryury. "None of us had a sailing background," said Tony Gonzalez, who works for a financial software company in New York. They learned aboard a Colgate 26, in a three-day course, which "is not just a ramble," wrote Caldwell. The article talks about the school's instructors, its course structure, the boats and how the Gonzalezes reacted to their experience – "an athletic activity, a warm-weather challenge, that all of them could do together." The full story can be read at
http://www.offshoresailing.com/about/articles-and-stories/ny-times-6-18-10-article.aspx
.
Offshore Sailing School was founded in 1964 by America's Cup and Olympic sailor Steve Colgate. Teaching classroom sessions out of his 40th Street offices and sailing from City Island in those early years, Colgate and his wife Doris now oversee seven locations in Florida, the British Virgin Islands, New York, New Jersey and the Chesapeake. Courses range from entry level sailing lessons and certification courses, to advanced cruising and racing. More than 115,000 adults have gone through Offshore Sailing School programs over the 47 years it has been in business.
A December 2010 Practical Sailor article, which rated eight sailing schools in the United States, states "The Offshore School has a long track record of happy customers, many of whom have written glowing reports to Practical Sailor."
"We are grateful to Redpoint for not only getting the story published, but their years of dedication to publicizing our programs," says Doris Colgate. Redpoint Marketing PR is located in New York City.
For more information, please visit
www.offshoresailing.com
.
###
Contact
Offshore Sailing School
Doris Colgate
800-221-4326
www.offshoresailing.com
For an image to accompany this release, contact Mary Orme at 727-733-9332 or mary@amcenergy.com

Contact