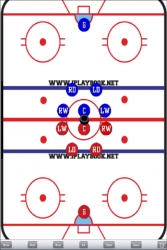 Philadelphia, PA, December 27, 2010 --(
PR.com
)-- Just days after its release, a new ice hockey coaching whiteboard app is one of the 40 most popular sports apps for mobile devices. iPlayBook IceHockey, designed for the iPhone, iPad and iPod Touch, is now available on iTunes.
An indispensable tool for coaches, players and fans, iPlayBook IceHockey allows the user to draw plays, position players and create drills -- all in the palm of the hand. Users can choose from three different ice formations and diagram face-offs, power plays and penalty kills, then share their plays with coaches, players and fans.
Working like a cross between a whiteboard and on-screen animation, iPlayBook IceHockey lets the user reposition players by touching and dragging them around the screen. Users can even draw passes with the touch of a finger. When a play or drill is just right, the user can save it to the photo library as an image or e-mail it to friends directly from within the iPlayBook IceHockey app.
iPlayBook IceHockey is a novel way for coaches to collaborate with one another and for players to visually review plays during the game, if needed, without tipping their hand to the other team. But it also gives fans the opportunity to get more involved in their favorite sport. Fans watching the game can create plays they think would work better or re-create successful plays while discussing the game with friends.
"iPlayBook IceHockey is an outstanding tool for coaches and players at all levels," stated Jim Boyle, founder and president of iPlayBook Apps. "We are thrilled to bring our outstanding iPlayBook App technology to the popular sport of ice hockey."
To learn more about iPlayBook IceHockey or to download the app from iTunes, visit
iPlayBook Ice Hockey
.
About iPlayBook Apps
Founded by entrepreneur and veteran sports coach Jim Boyle, iPlayBook Apps is a leader in mobile sports app development. The company works closely with IT Partners to create the world's best coaching tools for mobile devices. Learn more and view all the iPlayBook apps at http://www.iplaybook.net.
Contact:
Alan Sheltzer
iPlayBook Apps
coach@iplaybook.net
###