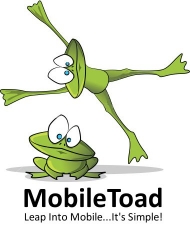 Raleigh, NC, April 07, 2011 --(
PR.com
)-- Gartner Research has projected that more than 85% of new handsets sold this year will be able to access the mobile web, and in the next three years more people will access the web via mobile devices than from desktops and laptops combined. "With the exponential growth of smartphone usage in the United States, we wanted to provide businesses with the option of designing and developing their own mobile web sites and applications," said John Paccio, Managing Partner of MobileToad. "Most companies' web sites view terribly when viewed from mobile devices, and the economy has made it challenging for many businesses to invest in mobile solutions to attract and engage with this growing segment of their customer base. At MobileToad, we provide companies with the ability to develop their own professional-looking mobile sites at a reasonable cost."
While MobileToad also offers design and development services for its' customers, the MobileToad platform is intuitive enough for most businesses to develop and publish a mobile web site on their own. "We provide hundreds of templates, easy-to-use WYSIWYG tools and a large widget portfolio for the creation of a professional looking mobile web site at a fraction of the cost of a traditional mobile technology company," said Paccio. "We make it easy for companies to start leveraging the mobile channel, attract more customers and grow their business. What could be better than that?"
All mobile website and application development plans include:
· Mobile web that works across iPhone/iPad, Android, Blackberry, Symbian and Windows Mobile
· 100% web-based hosted solution
· Use your own domain
· Unlimited pages, page views and traffic
· Import content from existing website or feed
· Step-by-step Getting Started guide
· Quick-start templates
· Easy WYSIWYG editor
· Distribution via SMS, e-mail or QR code
· Address book for distribution
· Reporting and Analytics
Mobile Toad is free to try for anyone, and potential subscribers don't have to spend anything until they have had an opportunity to fully evaluate the offering. Users can build and preview their work before being prompted to subscribe. The subscription is required for publishing / launching work, but does not obligate a contract for any length of time.
###