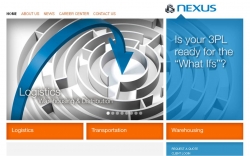 Arlington Heights, IL, April 19, 2011 --(
PR.com
)-- Third party logistics provider Nexus announced today that it launched a new website at
www.nexusdistribution.com
, providing increased functionality and navigability for clients and visitors. In conjunction with the launch of the new site, Nexus also refreshed its logo with an updated design.
According to Nexus CEO Dean Hansen, "The new website will provide a platform for us to share the solutions we are developing in response to the 'what ifs' that exist in today's logistics industry. For example, shifts in fuel prices, modal capacity, currency exchange rates, environmental legislation and regulatory policy have significant impacts on the supply chains of our customers. Strategic and scalable programs like
NexusHubs
,
Chicago Land Bridge
, and
NexusAdvantage
allow customers to be better prepared for what the future may hold."
The Nexus website continues to provide customers access to tools that provide real-time inventory and shipment status information. In addition, the site features a new look and feel with enhanced communications capabilities. Service and career inquiry forms have been updated to improve ease of use for visitors.
The new website was designed by Propeller Inc. of Arlington Heights. Propeller owner Tim Meyer comments, "Clear, direct communication and an improved user-friendly website interface make it easier for visitors to find answers and review Nexus' unique strategies and services. Visitors are immediately greeted by a home page animation that allows them to directly link to industry-specific services related to their sector."
Just prior to the website launch, Nexus also introduced an updated, freshened logo. Hansen explains, "We were inspired to renew our logo to reflect our commitment to our clients to bring new solutions to their challenges. We have been around for a long time, but we are always adapting and refining our expertise in our ever-changing field of logistics."
Meyer adds, "The new logo and logotype reflect the strength and experience that Nexus brings to their client's distribution challenges. We were able to maintain the essence of the original logo while updating the linking image and adding a subtle arrow pointing the way forward."
About Nexus:
Nexus is a leading third party logistics provider focused on providing flexible, integrated warehousing and transportation solutions. Headquartered in Arlington Heights, IL, its regional distribution centers are located in Allentown, PA, Chicago, IL, and Atlanta, GA. Nexus provides unique, customizable logistics services that yield significant savings, transit advantages, environmental benefits, and the ability to adapt quickly to program expansion or contraction. Warehousing services range from inventory management models to integrated cross-dock programs and value-added services. Transportation services include private fleet delivery, multi-modal freight forwarding, pool delivery and consolidation. Major markets include paper, food and beverage, packaging, consumer goods, electronics, and automotive.
###