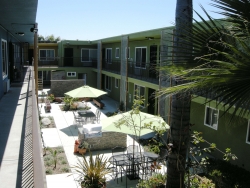 San Diego, CA, May 03, 2011 --(
PR.com
)--
Townspeople, a Community Housing Development Organization
(CHDO), continues providing quality, affordable and supportive housing for low-income people in San Diego with the opening of its latest acquisition/rehab property in Normal Heights. The building will celebrate its grand opening with a public reception on Thursday, May 12, 2011 from 3p.m. – 5p.m. Expected guests include San Diego County Supervisor Ron Roberts, San Diego Housing Commission's Vice President of Special Initiatives Cissy Fisher, other dignitaries, community and construction contractor representatives.
The 34 apartment homes consist of 12 two-bedroom and 22 one-bedroom units that will house more than 45 individuals, including families with children.
This is the third supportive housing property acquired, rehabbed and operated by Townspeople, bringing its inventory to 66 units located in District 3, the poorest of all San Diego City Districts. Residents will be those living below 30 or up to 60 percent of the San Diego Area Median Income (AMI), who are homeless, or at risk of homelessness. Some units will be for tenants with special needs including HIV/AIDS and severe mental illness.
This project is a partnership between Townspeople and a larger supportive housing initiative by the County of San Diego's Mental Health Services Administration (MHSA) to address the dual stigmas of homelessness and mental illness. In needed cases, Full Service Partnership support is provided by Community Research Foundation.
Townspeople understands that providing supportive services to residents with special needs saves a significant amount of money in social services and knows that these vital services are proven to help people achieve better health outcomes.
This property adds a modern feel to the Normal Heights neighborhood by enhancing the property's aesthetic and practical value, while preserving the distinctive architectural character of the community. Amenities include a gated entry, a courtyard area, 34 off-street parking spaces, a resident food pantry, on-site laundry and on-site management.
In addition to the on-site management, Townspeople provides the support of a housing case manager and a resident support services coordinator. The total cost of the project was $6,700,000. Funding was provided by the County of San Diego's Mental Health Services Administration, Cal HFA, The San Diego Housing Commission, San Diego County HOPWA, The U.S. Department of Housing and Urban Development and San Diego Neighborhood Redevelopment Fund and the State of California Prop 1C.
###