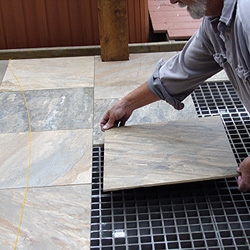 Henderson, CO, May 07, 2011 --(
PR.com
)-- Outdoor weather conditions stretch and strain most outdoor flooring materials. This homeowner, living at 8200 feet in Colorado, new that to be true. Seven years prior he was ready to build a wrap-around deck. As with most, he was diligent in looking for the best options. He attended Home and Garden shows and did some research on the internet but was unable to find what he thought was a good surface for his elevated outdoor floor decking.
It was important to have a finished surface that didn't require a lot of maintenance, such as staining, painting, sanding and power washing. His conclusion for the best option: a tile deck. His building technique: mud-set with slope. After building a standard wood framed structure, he installed 3/4" pressure treated plywood, 1/4" cement board and finished the surface with a thin-set porcelain tile.
Unfortunately this installation method lasted only 5 years. The homeowner did admit that if he had sealed the grout every year it could have lasted a couple more years. But as with most mud-set outdoor tile installations, the effects of freeze-thaw expansion and contraction would have eventually broken the entire floor system.
Being somewhat happy with the results of a tile deck, this homeowner was faced with a new challenge of repairing broken tiles and re-grouting the entire deck. So again he went to the internet looking for something to give him the long-term results he was looking for without a daunting maintenance problem. It was during that process that he located DexSystems® Outdoor Floor System™.
He found his answer: a sub-flooring underlayment system that would make it possible for him to tile his deck again but this time without the weaknesses of the previous installation including the grout. Upon demolition of his deck he found that the grout and tile bond was not his only problem. The thin-set he used to glue the cement board down had begun to deteriorate as well as the cement board.
He selected
DexSystems® GratedeX® Outdoor Floor System™
. This decking system made it possible for the owner to install his tile but without grouting the tile allowing the water to drain through and not be absorbed into the grout and cement based bonding material. In addition, this outdoor flooring system addressed the other traditional problems with a new solution. With GratedeX®, there would be no entrapped moisture with an open celled underlayment, no wood or cement based material with a fiber-reinforced underlayment that is inert to moisture and expansion contraction issues and no cement material in the flexible Hold-Tite® TA bonding adhesive used to bond the stone or tile.
The outdoor floor deck has finished with an 18" porcelain tile that's made to look like slate. It was much easier to use than slate because the tiles were uniform in size. In addition, they can be stronger and do not need to be sealed. The tiles were set in an off-set pattern with 1/16" open grout line.
This home owner is confident that the Colorado summer and winter extremes will have little effect on this long lasting GratedeX® Outdoor Floor System™. "I have a deck and a decking surface that should last for a very long time without any maintenance."
###