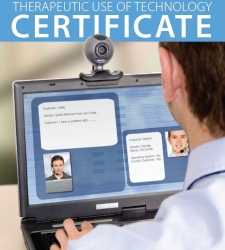 Highlands, NJ, May 23, 2011 --(
PR.com
)-- With the surge of tele-health services across the globe, it should be no surprise that mental health interventions are being delivered via technology through a variety of methods. From email exchanges between a doctor and patient to psychotherapy in virtual world settings via therapist and client avatars, the growth of behavioral telehealth and e-therapy services has been rapid. To meet the training needs of individuals and organizations seeking to deliver online mental health services, the Online Therapy Institute has launched
several online modules
ranging from email to avatars.
The
Online Therapy Institute
now offers
Certificate Programmes
in using various forms of technologies within therapeutic mental health services. The Certificate Programme "Therapeutic Use of Technology" provides professionals with everything thing they need to work ethically and successfully with clients on the Internet using text, audio and video technological methods – and how to blend them together to provide an online service.
The Online Therapy Institute's new course is based on the expertise of Kate Anthony, DPsych, FBACP and DeeAnna Merz Nagel, LPC, DCC, and their joint years of training mental health professionals to work online. Online Therapy Institute trainings are endorsed by the British Association for Counselling and Psychotherapy and have achieved accreditation for most mental health practitioner continuing education requirements in the in the USA.
During this 40 hour, fully facilitated, course, practitioners are immersed in learning for varying elements of Cyberspace, how relationships and therapeutic relationships work in Cyberspace, the ethics of working online, and how to use email, chat rooms, telephone/VoIP, and videoconferencing to work with their clients. For the first time in any online therapy training, the trainees are taken through an extensive case study of an online therapist and client – from assessment and intake, through contact via email, chat, text messaging, VoIP and finally video. Trainees are assessed via tests throughout, written work, and a live examination held online.
A Certificate Programme focusing solely on Avatar Therapy is in the works and will be launched in the coming months.
###