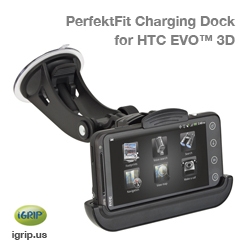 Miami, FL, July 02, 2011 --(
PR.com
)-- iGRIP Holding & Charging Solutions - Smartphones • Tablets • Navigation Devices • MP3 Players
HTC Evo 3D Vehicle Dock now available.
iGRIP Vehicle Dock available in Sprint retail stores.
iGRIP is proud to announce the immediate availability of the new Vehicle Dock custom designed for this new amazing device. It is available today in all Sprint Corporate retail stores and in many dealer owned retail stores as well.
By using the Vehicle Dock, the HTC Evo 3D phone is turned into a full featured Navigation device. When stepping into the vehicle the user can simply slide the Evo 3D into the Dock and it will charge*. The screen will also automatically switch to the car panel model, making it easy to use voice activated features like Navigation, making phone calls or finding a nearby gas station etc.
For anyone using Bluetooth technology the Evo 3D Vehicle dock is the perfect compliment. It keeps the phone in a secure, upright and easy to read position, allowing for a total hands-free driving experience. No more keeping the phone in the cup holder or having it slide on the passenger seat.
A free sample (freight charge may apply) of the iGRIP Vehicle Dock is available to legitimate web review sites, press contacts and interested re-sellers. Please send an email to 3dmarketing@igrip.us with your contact info and a brief description of your business to claim this offer.
"We are ready for this launch," said Mikael Petersson, Director of Sales & Marketing. "Our HTC Evo customers will get a terrific hands-free experience."
Interested retailers may contact Tessco or Technocel for pricing and availability.
To download images (750x750 pixels / 1500x1500 pixels) visit their product page: http://www.igrip.us/T3-10653.
For any website that wants to integrate a slide show, use embed code:
<iframe frameborder='0' style='width:460px;height:489px;' src='http://public.iwork.com/embed/ d=Evo_3D_Vehicle_Dock.key&a=p272741850&h=750&w=750&sw=458'></iframe>
* Charger not included
iGG,LLC • 473 S River Rd 1-213 • St George, Utah 84790 • 1.800.igrip21 (447.4921) • www.igrip.us • info@igrip.us
Contact: Sandra Mays
Director of PR, iGG
Los Angeles, CA
954.822.7490
###