rainbowweddingclergy to Perform Gay Weddings on Fire Island New York
Rev Alison Caiola of www.rainbowweddingclergy, top wedding officiant for NY Gay Weddings helps the marital tide come in for Fire island.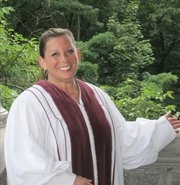 New York, NY, August 13, 2011 --(
PR.com
)-- To celebrate the passing of The Marriage Equality Bill The Grove Hotel in collaboration with www.rainbowweddingclergy.com will host Love & Marriage A Weekend Same-Sex Wedding Celebration Sept 16-18, 2011.
"Almost immediately after the bill passed Rev Alison Caiola contacted us. The timing couldn't have been more perfect," said Sal Piro, General Manager of Grove Hotel, Cherry Grove, Fire Island "We had already started to discuss the importance for us to create an event that would properly mark this momentous occasion."
The two put their heads together and it turned out to be a "marriage made in heaven' when the idea for a weekend long wedding celebration was born,
"Being a wedding officiant and the daughter of the first ministers to perform gay weddings after Stonewall, I wanted to come up with a way to celebrate with the community and honor my parent's work," explained Rev Alison, an Interfaith Wedding Minister and owner of
www.rainbowweddingclergy.com
. "Since Cherry Grove is reputedly the nation's first and oldest LGBT community, and The Grove Hotel is the heart of the community, I knew it would be the perfect place to host a historic wedding event."
All weekend long, Rev Alison and her co-officiants will perform individual, personal beach wedding ceremonies for couples who want to get married and for those who want to renew their vows. The services of a wedding photographer, bouquets and boutonnières will be available to the couples for additional fees. One attention-getting wedding ceremony will be that of Bobby and Victor, long-time Cherry Grove residents who will tie the knot Saturday, after being together for 58 years.
The celebration will kick off with The Grove Hotel hosting a Friday night welcoming party which will include a show starring PORSCHE (The "girl" with 1000 voices) and special guests. The individual beach weddings will take place all day Saturday and Sunday. Romantic dinners, lunches, brunches and small parties can be accommodated at local dining establishments. On Saturday evening PORSCHE will be the wedding singer and host at the Wedding Reception Gala for all the newlyweds and their guests. For more info on the event people should email loveandmarriage@grovehotel.com or call Sal at 631-597-6600.
###
The Grove Hotel is located in the very heart of Cherry Grove and is central to the best that Fire Island has to offer. It is Fire Island's largest hotel and the social hub of Cherry Grove. It hosts the popular Miss Fire Island contest.
Rev Alison Caiola is an Interfaith Minister and the owner of www.rainbowweddingclergy and
www.nyweddingclergy.com
. She custom crafts and joyously performs same-sex and heterosexual wedding ceremonies in the five boroughs, Long Island and Westchester County. She recently hosted The NYC Marrython in Central Park. In the past 12 years, her work has garnered peer recognition and industry awards.
Contact
rainbowweddingclergy.com
Rev Alison Caiola
917-828-0619
www.rainbowweddingclergy.com

Contact