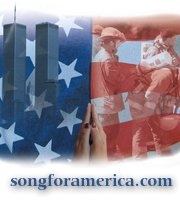 Orchard Park, NY, August 25, 2011 --(
PR.com
)-- Likely the first response in art and song to the 911 attack on America's tragedy years ago, a musical composition recorded and released then is being updated and re-released this week. The song Twin Towers (Song for America) was created within days of the tragedy and the website www.songforamerica.com subsequently received about a half-million hits with tens of thousands downloading the free song. The piece also received TV news coverage, radio play and notes from Vice President Dick Cheney and Senator Hillary Clinton. CD distribution proceeds were donated to The Salvation Army.
Re-mixed and mastered at California Road Studios, the song features new background vocals by veteran New York vocalists David Keith and Sherry Hackett, who've performed and produced national jingles in the Big Apple for brands such as Burger King and Coca Cola.
"When the news of the attacks came that day, we were at work and couldn't believe it. Immediately we felt like millions of others. We wanted to help, but how? So I knew we had to respond with whatever talents and skills we had, and do it now. No we weren't EMT's or firefighters, but we could be first-responders in the arts, song and media. So within 24 hours we put together the song and website and got it out to the news, the public. We felt a message of hope and prayer would provide some solace in the midst of pain that was incredibly hard to process. Music is a powerful and therapeutic force," states Holt Vaughn, CEO of The Eastco Group of media companies, who also wrote and produced the song.
The lyrics are tender yet a bit defiant. They celebrate the qualities of the people of the United States: tough, resilient, hopeful. The project involved many Eastco employees, pitching in together to make a difference, utilizing their musical talents, graphics and web development, marketing, production and office help. People in the local community pitched in too, church people, radio, TV, record stores. The updated version contains some new guitar work by Vaughn, who has recorded several albums in the past and has recently been recording fresh material alongside Muscle Shoals guitar great Will MacFarlane (Bonnie Raitt, Etta James), GRAMMY nominated guitar legend Phil Keaggy and other music industry veterans.
Vaughn's PR team lived near Ground Zero for several years. Together with Vaughn, they recently visited the site. "It's hard not to be overwhelmed by it all, and I think it is important to commemorate it. The song's focus is people,
relationships, healing, and it serves as a World Trade Center memorial, also including Washington DC and Pennsylvania. To my surprise, the amazing Freedom Tower is already over 70 floors above ground. An interesting thing about that: ten years ago, in the last refrain of the song we ad-libbed some vocals, singing '…for freedom' until the song's end. I thought of that when I found out the new building is Freedom Tower."
The song can be down loaded for free at www.songforamerica.com. The Eastco Group is an award winning group of companies providing digital, mobile, broadcast and traditional media and marketing solutions for business,
entertainment and non-profit leaders. The Eastco Group of media companies has completed thousands of projects for Fortune companies, rock and pop stars, NY Times best-selling authors and leading not-for-profit organizations.
For more information contact:
Jon LaPorta, The Eastco Group.
3646 California Road
Orchard Park, NY 14127
Phone: (716) 662-0536
Fax: (716) 662-3360
###