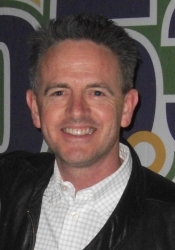 Los Angeles, CA, September 11, 2011 --(
PR.com
)-- Veteran voice over talent and actor, Jeff Conwell (www.jeffconwell.com), is proud to announce that he has joined forces with Idiom Worldwide for representation in Los Angeles, Hawaii, Southeast Asia and other markets where Idiom Worldwide has a presence.
Jeff has spent the last 30 years active in voice work with 15 years as a broadcaster both on air and performing voiceovers and production. He also spent and 15 years as partners in an advertising agency focusing on creative, production and voice overs prior to his departure into full time voice over acting. His experience provides unique insight for clients since he is familiar all aspects of the business. Conwell said, "I understand what agencies are up against in trying to meet the needs of their clients. It's a challenge to be sure in this competitive industry. I work hard to make my agencies look like 'rock stars' to their clients by delivering exactly what they want and go beyond the standard."
However, experience alone doesn't make you a successful talent in the voice over industry. It requires representation from well respected, sought after agencies. "I'm excited and proud to be represented by a company like IDIOM Worldwide. They are in markets critical to my business and expert at what they do, and one of the most respected agencies in the country. So, yeah, I'm excited to be with Idiom Worldwide!" Conwell said.
Idiom Worldwide was founded by Shane Cormier with Managing Partner, Lena Morgan. Their agents and principals have over 30 years of experience and represent a veritable who's-who of celebrity, musician, models, voiceover, animation and more. You'll find Idiom Worldwide offices in Los Angeles, Honolulu, Bangkok, and Mumbai They can be reached at 1 888.800.8070
Jeff Conwell has voiced projects from radio, TV, e-Learning, websites, on-hold, narration, audio books, and performed on camera in several productions. Visit his website at www.jeffconwell.com or by phone at 509-433-8300.
###