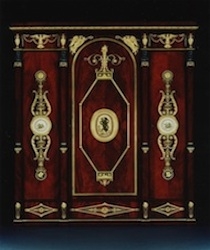 New York, NY, September 19, 2011 --(
PR.com
)-- Carlton Hobbs, LLC is thrilled to be participating for the first time in Fine Art Asia, the premiere annual fine art fair in Asia located in Hong Kong. They are very excited to join the elite group of galleries exhibiting at Fine Art Asia's 7th edition, which is being held at the Hong Kong Convention and Exhibition Centre (Hall 5BC). The fair's opening night preview will be held Sunday, October 2 from 6-9 pm, with the fair lasting from Monday, October 3 to Friday, October 7. Hours for the fair are from 11 am-7 pm from Monday-Thursday and 11 am-6 pm on Friday.
They are very excited to be showing a magnificent group of Continental and some British pieces with a focus on a sumptuous, neoclassical look.
This French mahogany and gilt bronze mounted bibliothèque set with painted marble panels en grisaille illustrates how the revival of interest in ancient architecture and decorations informed designs in the first decades of the 19th century. A series of scholarly studies by such men as Robert Wood, Robert Adam, James Stuart and Nicholas Revett in the second half of the eighteenth century brought English connoisseurs from that time period increasingly into contact with the classical world. Meanwhile, the 1802 publication "Voyage dans la Basse et la Haute Egypte" by Baron Domenique Vivant Denon introduced a new range of antique motifs into French furniture design.
The bibliotheque is most unusual in its use of marble panels painted en grisaille and is further notable for the more fluid 'organic' mounts that followed after the strict First Empire style. This later development was much championed by J.J. Werner, who sold remarkable pieces to Louis Phillipe.
The design of this large pair of late Louis XVI five-light neoclassical gilt-bronze candelabra is of an austerity rare in the gilded bronze in the Louis XVI period, which predates the distilled classical forms of the Directoire. This pair is almost identical to a candelabrum illustrated in Hans Ottomeyer and Peter Pröschel's book Vergoldete Bronzen. It is dated to 1785 and ascribed to the same maker as another tri-form candelabrum in the collection Musée Nissim de Camondo in Paris. Although the latter piece is ornamented in a more elaborate fashion, Ottomeyer and Pröschel detected in both pieces elements cast from the same mold.
The Downing College chandeliers, a set of three monumental chandeliers by Peter Bicknell, were originally installed in the Hall at Downing College, Cambridge, while remodeling in the 1960s. Mr. Bicknell was a noted architect as well as a teacher in architecture and art history, author and curator. These chandeliers, installed in the Hall designed in the neoclassical taste by William Wilkins, are an interesting exercise in the fusion of English late classicism, as typified by the Regency style, and mid-20th century modernity. The classical references include a flaming urn, repeating anthemion decoration and applied with swan mounts. Whilst incorporating many of these elements of the classical repertoire, the chandelier is also imbued by a severe and angular quality redolent of mid-20th century design.
Carlton Hobbs' New York office will be open as usual for the duration of the Fair, +1 212 423 9000. Additionally, Carlton and Stefanie can be reached directly by emailing stefanie@carltonhobbs.com. Carlton Hobbs LLC is booth number G8 at Fine Arts Asia.
###