Comradz Launches New Online Store Featuring ninewave's Natural-Sound Headphones for Music and Games - The Revolution Has Begun
Three Japanese Headphones Offered by New Web Company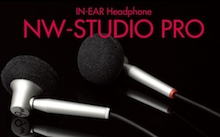 Las Vegas, NV, September 21, 2011 --(
PR.com
)-- Comradz today launched its new online store with its first line of products, ninewave's™ NW-STUDIO headphones from Japan. Based upon the patent pending Dual-Anti-Standing Wave System(1) the ninewave™ NW-STUDIO Series headphone's technology distinguishes itself from other in-ear headphones by suppressing unwanted standing sound waves resulting in full-spectrum, dynamic and vivid sound.
Founded by three friends with backgrounds in a variety of consumer retail product development, sales and marketing, Comradz will soon be offering to the masses, other unique high-quality items from around the world.
For more information visit www.comradz.com.
Light and comfortable, these critically acclaimed NW-STUDIO series headphones were created for cell phones, portable media players such as the iPhone®, iPad® and iPod®, personal computers, as well as for gamers and electronic musicians.
"My Comradz all love music and we have been listening to our collections through the ninewave™ NW-STUDIO PRO headphones," said Jonathan Kahn, one of the three founding Comradz and past Co-founder and CEO of Aladdin Systems, makers of StuffIt software. "These headphones were designed to listen to music the way it was recorded — natural and uncompromising. We decided these great headphones should be available to the people and thus Comradz has its first cool offering."
Now available from Comradz: the distinctive NW-STUDIO PRO in black, the special edition NW-STUDIO PRO in white and the NW-STUDIO.
NW-STUDIO PRO - $149.99 USD
These high-resolution headphones provide a warm, full and uncompromising sound quality that will delight any listener. With large drivers, a solid, high-grade aluminum body and patented Dual-Anti-Standing Wave System technology, the NW-STUDIO PRO headphones deliver sound quality that is bright, colorful and natural.
Bundled: Gold-plated standard 1/4" plug adapter, Extension Cord, 3 Pairs of Ear Pads, Manual, Warranty and Japanese Designer Leather Carrying Case.
NW-STUDIO PRO W (Limited Edition) - $129.99 USD
All of the features of the NW-STUDIO PRO are included except that this model features a solid, high-grade white aluminum body, white cord, no carrying case and a few less bundled items.
Bundled: 3 pairs of Ear Pads, Manual and Warranty.
NW-STUDIO - $49.99 USD
Uncompromising sound at an economical price. The patented, Dual-Anti-Standing Wave System technology is featured in this model, making the sound rich and natural. These are great sounding at an affordable price.
Bundled: 2 pairs of Ear Pads; Manual and Warranty.
For more information and to purchase these high quality, fantastic sounding headphones, visit www.comradz.com.
###
About Comradz:
Founded by three comrades in the summer of 2011, we decided to create a marketplace to bring cool accessories, software and toys that we enjoy to our brothers and sisters around the world. Our goal is to start a revolution by offering great service, prices and cool stuff to all our friends and Comradz. The three Comradz have been in high tech for more than fifty-five years collectively and have created, developed and marketed many well-known consumer software products used today. Visit Comradz
www.comradz.com
Comradz, Capitalism and Community For All
Press Contact:
Daryl Wise
StreetWise PR
dsw@StreetWisePR.com
pr@Comradz.com
831-763-9313
Legal:
Comradz is a trademark of Comradz, a Nevada corporation. All other trademarks and product names are the property of their respective companies.
(1) Dual-Anti-Standing Wave System features Pore Control Technology (Japanese Patent Application Publication No. 2009-164912) developed by M.I.Labs
Contact
Comradz.com
Daryl Wise
831-763-9313
www.comradz.com

Contact