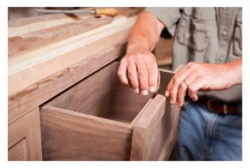 Orlando, FL, November 28, 2011 --(
PR.com
)-- Multi-talented custom manufacturer,
Blu.Wood.Studio
of Orlando FL has won the contract to build more than a dozen custom furniture pieces for the new Sheraton Lake Buena Vista Hotel in the Orlando.
The pieces range from huge credenzas to waiter stations and hostess stand, all in custom shapes and sizes, most with intricate finishes. Blu.Wood.Studio also provided the shop drawings for all the pieces.
With over 480 rooms and 13,000 sq ft of meeting space at the Sheraton Hotel, the Blu.Wood.Studio pieces will be in plain sight of thousands of guests on a daily basis.
"We are proud that an Orlando firm got the job, that we got the job," says Richard Leatherman, Blu.Wood.Studio MasterCraftsman. "It was originally headed to a firm in China."
Blu.Wood.Studio is vocal about the need for large corporations to hire competent US firms and hire local when at all possible.
"We are master craftsman at Blu.Wood.Studios, with over 70 years of work experience between us," notes Leatherman. "We are more qualified, our bid was competitive and we can blow the Chinese out of the water on quality… and shipping cost," he smiles.
Blu.Wood.Studio will install the hotel in December 2011.
Blu.Wood.Studios produces the best in Custom Furnishings, Cabinetry and Millwork. Our combined experience of over 70 years in custom furnishings and design allows us to create beautiful pieces for the Residences and Businesses of our clientele. www.BluWoodStudio.com
###