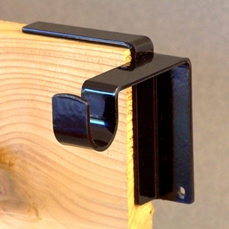 Cumberland, RI, February 06, 2012 --(
PR.com
)-- Three years ago, T&J Distributors started out with one simple product, the "E-Z Curtain Rod Bracket." The concept was deceptively uncomplicated. Fuse pins to a curtain rod bracket, shape it into an L-shaped design so it "tacks" to the top of a wooden window frame, eliminating the use of those pesky tiny nails. Deceptively uncomplicated because the law of leverage takes over. When weight is placed on the curtain rod, it then locks against the wall and is tacked to the top of the window frame so it is unable to move, that is side to side or be pulled down.
Taking that design one step further, T&J Distributors and owner Judy Burr has produced a patented bracket to hold a round curtain rod. "We've received an overwhelming amount of requests to produce a more modern up-to-date bracket," sites Judy. She goes on to say, "Not everyone still uses the flat white curtain rods these days." The new brackets became branded as "Kwik Hang Curtain Rod Brackets."
"Our customers know what they want and it wasn't long before they made it clear they needed a larger one inch bracket for thicker curtain rods and heavier, more elegant drapery," Judy states. She goes on to say, "Soon requests were flowing in for a center support bracket for longer, more sophisticated window treatments. So now all of these items are available on our web site and very reasonably priced, of course we have different colors to choose from also."
The company has found a niche market and is capitalizing on the fact that not everyone is a "do it yourselfer."
Judy finishes by saying, "with a few taps of a tack hammer your curtains are hung, without damage to your walls or woodwork, what could be easier?"
###
For a demonstration video and more information find us at:
www.kwikhang.com