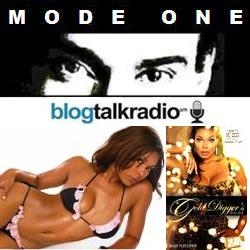 Hollywood, CA, February 17, 2012 --(
PR.com
)-- Are you a single man who wants to enjoy the sexual companionship of many beautiful, sexy women without having to invest much money in "wining and dining" women and performing financial favors for them? Are you a single woman who is looking to have bachelors with a high degree of social status and wealth offer to help you achieve the lifestyle you want and your most desired career goals without feeling obligated to have sex with them?
Tune into BlogTalkRadio on Thursday, March 1, 2012 as Talk Radio Host Alan Roger Currie, also referred to as "The King of Verbal Seduction," matches his opinions, beliefs, and principles for single men up with his guest, Ms. Baje Fletcher, who has gained popularity as a model, video vixen, and most importantly, the author of a popular, but controversial book entitled, "A Gold Digger's Guide: How to Get What You Want without Giving It Up!" The interview and discussion will take place at 10:00pm EST / 7:00pm PST.
Since January 2008, "Upfront & Straightforward" has been the #1 rated and most listened to talk radio podcast program on the BlogTalkRadio Internet Radio Network in the category of 'Dating / Romance'. Currie, who also hosts another adult-themed podcast program entitled "The Erotic Conversationalist," is also an author of three paperbacks of his own, including "Mode One: Let the Women Know What You're REALLY Thinking" and his latest, "Oooooh . . . Say it Again: Mastering the Fine Art of Verbal Seduction and Aural Sex." Currie's primary message in his books is that men should always let women know in a confident, upfront, and straightforwardly honest manner that they are looking for sex ... and many times, "just sex" ... rather than lying to women, misleading women, or manipulating them emotionally in order to get women in bed.
Fletcher, who was born in Brooklyn and raised in Jamaica, first gained fame as a model who appeared in a number of music videos with artists such as Lil Wayne, Kayne West, T Pain, R Kelly, Akon, Plies, P Diddy, Fat Joe, Jay Holiday, Twister, Rick Ross and Nelly. Fletcher has even hosted parties for Ne-yo, Jamie Foxx and Jay Z. Fletcher has also appeared as a contestant on "Paris Hilton's My New BFF," and has made brief appearances on television shows such as "The Game" and "CSI: Miami."
"I will confess ... I liked Baje's book much more than I initially thought I would...," said Currie, who will be a featured speaker at the upcoming Direct Dating Summit USA in Las Vegas on March 17-18, 2012. "Some of the content in the first few chapters of the book had me frowning and riled up, but there is much more content in the latter chapters of the book where I have to objectively say that Ms. Fletcher is giving out very good advice and sharing solid wisdom with women. At the end of the day though, I would still generally categorize Baje and I as 'philosophical adversaries,' given that I teach men how to get women in bed without becoming a 'Sugar Daddy,' and Baje teaches women how to get financial favors from men without developing a reputation for being promiscuous. It should be a really interesting, provocative, and entertaining interview and discussion, to say the least," added Currie.
Currie's advice has been featured in the July 2008 edition of Essence magazine and his talk radio podcast program, "Upfront & Straightforward" was featured in a blurb in the October 2009 edition of Black Enterprise magazine. Fletcher owns her own talent agency, Glitz & Glamour, which also published her book.
URL Link for upcoming interview: http://www.modeone.net/radio/bajefletcher
Find out more about Baje Fletcher: http://www.bajeonline.com/bio.htm
Baje Fletcher's book: http://www.agolddiggersguide.com
Find out more about Alan Roger Currie: http://www.modeone.net/
###