Green Things That Make You Go "Wow!"
Largo firm transforms a common household product into art and invites contractors, builders and home-owners to an open house "art show" on the last Friday and first Friday of February, March & April.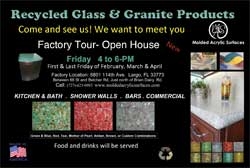 Tampa, FL, February 23, 2012 --(
PR.com
)-- Interior designers take great pride in their work. And there is nothing like watching the client's reaction when they see the "big reveal" on a big remodeling project.
Whether the "wow" is hushed, uttered in awe, or it is a shout, displaying the client's excitement, for designers using Molded Acrylic Surfaces in their projects, the thrill is clear as the glass that the company has transformed to art.
Molded Acrylic Surfaces began as a small business in a Florida garage in 2010. Richard Desforges, owner of Molded Acrylic Surfaces saw an opportunity to offer interior designers, architects, builders and contractors an alternative to granite and quartz that can turn the ordinary into extra-ordinary and at the same time provide a much sought after green alternative.
Molded Acrylic Surfaces has crafted over 31 color combinations of their sustainable materials. What sets Molded Acrylic Surfaces apart is the ability to light any of its recycled glass product with LED lighting, creating art out of what had previously been ordinary glass. "When I first saw the finished product, I knew I wanted to buy the company," says Desforges.
In 2011, Desforges moved the operation into a 20,000 square feet Factory located in Largo, Florida. "If someone can think of a product, chances are, we can make it," states Desforges. Molded Acrylic is poured into molds from a job site template, making for a perfect fit with less waste than fabricated acrylic sheets.
"Our products are comparable to granite and quartz products both in durability and cost and the demand for green products is increasing," says Desforges. The added bonus with molded acrylic surfaces is that items can be fabricated up to 7' x 10' without seams. "We can make counter-tops, sinks, walls, showers, tubs and much more," says Desforges.
Contractors and builders are seeing the advantage of offering Molded Acrylic Surfaces' products to their clients, as they offer a green alternative with a leading edge in look and feel.
The factory is holding an open house on Friday, February 24th, March 2nd, March 30th, April 6th, April 27th from 4:00pm to 6:00pm. Think of it as an "art show."
If you are in the Tampa Bay area, come and say hello, we would love to meet you. 6801 114th Ave., North, Largo, FL 33773 or visit our website at http://www.moldedacrylicsurfaces.com.
###
Contact
Molded Acrylic Surfaces
Helene Warner
727-432-8693
moldedacrylicsurfaces.com

Contact