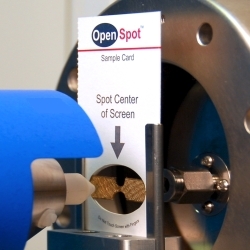 Saugus, MA, March 06, 2012 --(
PR.com
)-- IonSense, Inc. today announced its DART®-OS Source for rapid analysis of raw materials, formulations, reaction products, and unknown materials without sample prep. The source utilizes the simple OpenSpot® Sample Cards for sampling, transfer to the lab, and analysis. Designed for streamlined analysis, the use of OpenSpot Sample Cards eliminates the need to dissolve samples in solvents and transfer to and from sample containers, doing away with costly consumables associated with other open-access methods. Additionally the closed region of the DART-OS Source minimizes sample contamination and contains vapors of derivatizing agents and dopants used for analysis of more complex samples.
The DART-OS joins the ID-CUBE® in IonSense's OpenSpot Mass Spectrometry™ product line. The new low cost system is designed for laboratories that want the ability to perform both routine analysis along with the capability to manually analyze samples or other bulky objects. The OS-module mounts between the DART source and MS instrument and can be readily removed to reveal the traditional open area for DART sampling. This allows the analysis of samples such as leaves, textiles, plastics, or sample collection devices such as SPME fibers or swabs. In addition, the OS-Module is designed to operate with existing DART-SVP sources and LC/MS instruments from vendors including AB SCIEX, Agilent, Bruker, JEOL, Shimadzu, Thermo, and Waters, giving their existing customers access to the technology.
OpenSpot Mass Spectrometry embodies "our continuing drive to simplify and speed the analysis of samples using our core DART technology," says Brian Musselman, IonSense President and CEO. "With the new OS or 'Operation Simplified' approach, everyone from quality control technicians to chemical researchers will be able to place their sample on the OpenSpot Card, carry it to the instrument, and get their needed information in seconds."
Sample preparation for the DART-OS involves deposition of 1 – 2 microliters of liquid or a few grains of solid directly on the screen of the OpenSpot Sample Card. The card-based sampling process eliminates the most common step in chemical analysis, the need to put the right amount of sample in the right kind of solvent to get the analysis to work. According to Musselman "in a world where criminals are expanding their efforts to substitute cheaper, potentially dangerous chemicals into our food supply and consumer products, using DART as a screening tool makes sense and DART-OS specifically makes those screening experiments easier to do."
The DART-OS Source will be exhibited in the IonSense booth 2609 at the Pittcon Conference and Expo 2012, Orlando, FL from March 11-15, 2012.
About IonSense, Inc.
IonSense, Inc. (www.ionsense.com) is a Massachusetts-based company providing OpenSpot Mass Spectrometry™ solutions to the fields of food safety, forensics, drug development, and chemical analysis. They manufacture and develop direct analysis in real time (DART®) and atmospheric solids analysis probe (ASAP™) technology. The company provides sources and accessories for JEOL, ThermoFisher, Agilent, AB SCIEX, Bruker, Shimadzu, and Waters mass spectrometers. IonSense products including DART and ASAP technologies are distributed in Europe by KR Analytical Ltd, in China by ASPEC Technologies, in Japan by AMR Inc., in India by Orochem India, in Korea by Omics Biotech, in Canada by VBM Consulting Ltd., and in Israel by Mercury Scientific.
###