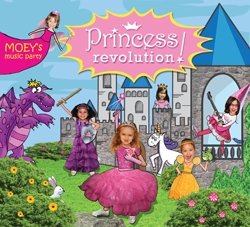 New York, NY, March 15, 2012 --(
PR.com
)-- Moey's Music Party, the multiple award-winning children's band, will release their new single, "Princess Revolution!" as a free download on CDBaby through the CD release date on Tuesday, April 24: http://www.cdbaby.com/cd/moeysmusicparty22.
"Princess Revolution! is a girl-power concept album that celebrates the exuberant, can-do spirit inherent in all girls," said Moey, a.k.a. Melissa Levis, lead singer and songwriter of Moey's Music Party. "I want to entertain kids while empowering them with the message that girls aren't helpless; they are sparkle-tacular heroines who can wake themselves up with their own magical kisses, slay the dragon and even rescue the prince!"
The 15-track CD, Princess Revolution! will be released Tuesday, April 24 (SRP $13.98 for CD, $9.99 for download), during the first ever National Princess Week. The rocking original songs explore topics that include body image, keeping promises, understanding emotions and speaking up against bullies. Moey's Music Party also has reimagined the children's classics "The Hokey Pokey" and "Five Little Monkeys" as "The Princess Pokey" and "Five Little Princesses."
Princess Revolution! builds on the success of Moey's Music Party's 2011 CD/DVD release, Happily Ever Moey! A Fairy Tale Lark in Central Park (winner of Parents' Choice, NAPPA, Kids First! and Creative Child awards—and named one of the top 10 products at Toy Fair 2012 by The Toy Man), and includes modern musical retellings of "The Princess and the Frog," "The Princess and the Pea," "The Little Mermaid" and "Sleeping Beauty."
Moey is New York City's #1 "mommy rocker." She and her band perform for 10,000 children a year at venues including the NY Public Library, Central Park, FAO Schwarz, Bloomingdale's, Gymboree, Madison Square Park, the Williamsburg Waterfront, The Tribeca Film Festival, Fairway Market, the JCC, 92Y Tribeca, schools, museums, charity events and more.
"My aunt, Wendy Wasserstein, gave me my first feather boa," Moey said. "She was a revolutionary playwright who gave a voice to her generation of uncommon women. It gives me joy to encourage girls to celebrate their sparkle and share Wendy's legacy with this new generation of uncommon girls."
To kick off the release of Princess Revolution! Moey invites mommies, grandmas, aunties and kids to visit MoeysPrincessRevolution.com to become a tiara-rific princess.
Moey's Music Party's award-winning debut CD and Happily Ever Moey! CD/DVD are distributed by NewSound Kids and are available for purchase and download on iTunes, Amazon.com and CDBaby.
For more information about the band and the current release, visit MoeysMusicParty.com and MoeysPrincessRevolution.com.
Note to writers and editors: Review copies of the CD available upon request.