Success Computer Consulting, Inc., Hosts Apple Technical Training for Twin Cities Partners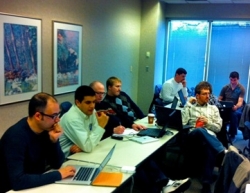 Minneapolis, MN, April 03, 2012 --(
PR.com
)-- Success Computer Consulting, Inc. has hosted the technical and engineering staff of several leading Twin Cities-based managed service providers in a two-day Apple Mobility Technical Competency workshop, part of the nationwide rollout of the Apple Consultants Network.
The training featured hands-on labs on Apple's iOS platform devices, including iPad, iPhone and iTunes. It focused on business implementation scenarios, including integration to Microsoft networks. Business scenarios covered include:
· Integration to business network platforms, such as Microsoft networking,
· Security, which continues to be a challenging concern in the new "Bring Your Own Device" ("BYOD") technology culture,
· Configuration and deployment (over-the-air, mobile device management, self-service and lifecycle management), and
· Application development and distribution
The instructor for the training session was Eric Hemmeter, Senior Technical Consultant for PCMall Services, with whom Apple contracted to conduct partner training.
Erik Thorsell, CEO of Success Computer Consulting, expressed gratitude for Apple's partnership. "The landscape is changing in business technology, and much of the change is being driven by products from Apple. Our partnership with Apple positions SCC to be the Twin Cities' expert on the integration of Apple iOS devices with a Microsoft network. We're proud that Apple chose SCC to host their training for our industry colleagues." SCC will be hosting a second industry training for local technology firms in June 2012.
Success Computer Consulting, Inc., (SCC) is the Twin Cities' leading partner for medium-sized and small businesses who want to get the most out of their technology. In business for twenty years, SCC's thirty-four technology professionals bring a special combination of technical know-how and experience, leading industry connections, and a positive, fun culture that delivers great service to our clients. For more information about SCC, visit www.sccnet.com.
Apple designs Macs, the best personal computers in the world, along with OS X, iLife, iWork and professional software. Apple leads the digital music revolution with its iPods and iTunes online store. Apple has reinvented the mobile phone with its revolutionary iPhone and App Store, and is defining the future of mobile media and computing devices with iPad.
Contact
Success Computer Consulting, Inc.
Erik Thorsell
763-593-3000
www.sccnet.com

Contact