ASD Publishing Adds Books on Autism & Foster Care to Spring Releases
Author Gregory G. Allen releases adult novel and children's picture book in the same month.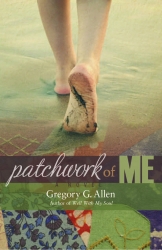 Hawthorne, NJ, April 11, 2012 --(
PR.com
)-- Author Gregory G. Allen is an award-winning writer and composer who has spent his career advocating adversity and diversity for both the page and the stage. Two of his newest works show just that and have been published by independent publisher ASD Publishing.
"Patchwork of Me" is a compelling adult novel that tells the page-turning story of a woman who after spending her childhood in the foster care system, decides to take a road trip to learn about her past. After uncovering some heinous memories in therapy, she believes she needs to confront that past she had forgotten prior to her years in foster care in order to move on with her future.
"I originally wrote this book a few years back after participating with over 200,000 other authors in the November challenge to write a novel in one month with NaNoWriMo," says Allen. "That was the first draft for what became the novel and I loved every moment of pushing myself in such a way."
Allen loves to write in numerous genres and is always changing the style and voice in which he tells his stories. Patchwork is told in first person through a female character and has received glowing reviews from those that have already read the novel. "Captivating, entertaining, addictive," are just a few adjectives coming from other authors and reviewers. The book is available on April 15, 2012.
"The fact the book comes out on my birthday is just an added bonus," Allen says. "It offers the possibility of having a really great birthday depending on how it is received."
In addition, Allen entered the MeeGenius Author Challenge for Children's Books this past fall and was named the 2011 People'e Choice winner for his book "Chicken Boy: The Amazing Adventures of a Super Hero with Autism." The challenge was a national contest with 400 manuscripts submitted. MeeGenius, a leading eBook publisher, published the winning book in March along with giving a library of their books to the elementary school of Allen's godson (the inspiration behind the story).
"Though ASD has not published children's books in the past, we believed this simply told story through the mind of the child with autism fit perfectly into our mission," says ASD President. "We have fiction, non-fiction and self help books at ASD. Perhaps this will open the door to include future children's books that fulfill a need to show a personal growth story through different genres."
April is national autism awareness month, and while the children's book is being released during that month, ASD Publishing hopes to aid in making children aware every month as more come in contact with this book.
"To say I feel blessed would be an understatement," Allen says. "I'm aware authors spend many years to get one book out to the public. I'm thrilled to be able to hit two very different audiences this spring with these two books."
Gregory G. Allen has been in the entertainment industry for over twenty years as an actor, director, writer, composer. He has had novels, musicals, short stories, and articles published and produced in numerous venues and outlets and has won awards and grants for many of those. He lives in northern New Jersey. www.ggallen.net
Both books are available on the ASD Publishing website, at online outlets, and through indie bookstores. ASD Publishing, an independent book publisher based in New Jersey, specializes in thought-provoking literary fiction, memoir, self-help non fiction, and written word that champions personal growth and the independent spirit. www.asdpublishing.com
Contact
ASD Publishing
Anthony DiBella
973-280-0145
www.asdpublishing.com

Contact