"Upfront & Straightforward" Celebrates Five Years of Dating Advice for Singles
On May 31, 2012, "Upfront & Straightforward" with Host Alan Roger Currie will celebrate five years as the top-rated talk radio show on BlogTalkRadio.com among all programs that primarily center on issues and discussions related to romance, attraction, seduction, sex, and self-help for dating singles.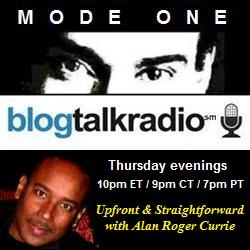 Hollywood, CA, April 08, 2012 --(
PR.com
)-- Some of Alan Roger Currie's fans, guests, and listeners have categorized his popular talk radio podcast program as "the most real, provocative, and entertaining talk radio show for dating and relationships advice." Currie's show, "Upfront & Straightforward," has had more episodes ranked as the most popular and most-listened-to episode of the week in the category of "Romance" than any other talk radio podcast program on the entire BlogTalkRadio Internet Radio Network since the show's first episode in June 2007.
Currie, who is also the author of three paperbacks that offer self-help advice to single heterosexual men on how to improve their self-confidence toward attracting women, says that he actually loves the internet radio platform that BlogTalkRadio offers more than even traditional broadcast radio or the popular satellite radio format.
"If I were a host of a satellite radio program or syndicated broadcast radio show, I would surely be earning more money," said Currie, who was born and raised in Gary, Indiana, the same birthplace and hometown as the late legendary singer Michael Jackson. "What I like about BlogTalkRadio is the freedom to be who I really am, say what I really want to say, and have the type of discussions that I really want to have. You have the same freedom with a satellite radio program, but your listeners have to pay for it. Broadcast radio is free, but you have much more FCC-related restrictions as far as language and subject matter go. BlogTalkRadio offers a host the best of both worlds," added Currie.
"Upfront & Straightforward" has attracted many of the nation's most popular and most well respected experts and book authors in the area of marriage advice, dating advice, relationship advice, and sex and seduction advice.
Currie has had guests from the adult film industry, such as Nina Hartley, Mr. Marcus, and Diana DeVoe; African-American Hollywood stars such as Hill Harper, Jimmy Jean-Louis, Finesse Mitchell, and Tasha Smith; Well respected sexologists such as Dr. Susan Block, Dr. Debbie Herbenick, Dr. Yvonne Fulbright, and Dr. Rachael Ross; well respected psychologists and book authors such as Dr. Helen Fisher, Dr. Scott Haltzman, Dr. Diana Kirschner, Dr. Carole Lieberman, and Dr. Carol Queen; and attraction and seduction gurus such as Robert Greene, Paul Janka, Zan Perrion, David X, Sasha Daygame, and David Wygant. Other notable guests have been Anthony & Melanie Clark, Karen McCullah Lutz, Tariq "King Flex" Nasheed, Sophia A. Nelson, and Candida Royalle.
"At the risk of bragging, I have to say, there are very few if any talk radio shows that have had the caliber of dating experts and book authors that I have had with the exception of those hosts who are well-known in Hollywood and are a household name, such as maybe Oprah, Steve Harvey, or Howard Stern. Being on BlogTalkRadio for five years is not necessarily an achievement. Anyone can become a host and maintain a show on BlogTalkRadio. What I am celebrating is how much I have increased my listenership over the last five years. The fact that I have been ranked as the most-listened to talk radio podcast program for over four years in the category of 'Romance,' as well as 'Books' and 'Self-Help' on BlogTalkRadio. I love my listeners, and they love me because I always keep it real. Rarely, if ever, am I 'pleasantly phony' with guests. If I think they're full of crap, or I think their advice is invalid, I tell them... in an upfront and straightforwardly honest manner."
Currie himself as been a guest on a number of other talk radio shows, including Walt "Baby" Love's "The Countdown" and "Café Mocha radio" with former rapper MC Lyte, comedienne Loni Love, and actress Angelique Perrin. Currie is also the host of a second more risqué, adult-themed podcast program entitled, "The Erotic Conversationalist" (http://www.modeone.net/podcasts).
For more about "Upfront & Straightforward," visit http://www.blogtalkradio.com/modeone; Also visit http://www.modeone.net; Currie's books are available on both Amazon.com and BarnesAndNoble.com
Link to 5th Anniversary Episode: http://www.blogtalkradio.com/modeone/2012/06/01/alan-roger-currie-celebrates-five-years-on-blogtalkradio
Contact
Mode One Multimedia, Inc.
Ashley Howard
219-789-1948
http://www.blogtalkradio.com/modeone
http://www.modeone.net/home.html

Contact